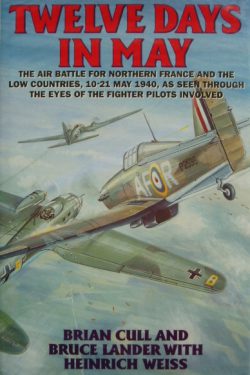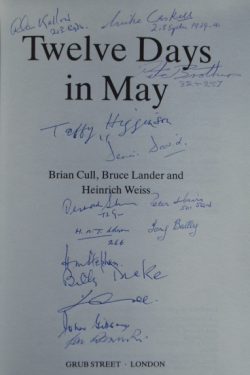 TWELVE DAYS in MAY
The Air Battle for France, 10~21 May 1940
Multi-Signed
Price: Serious offers invited until 28th February 2019
FEBRUARY ~ *BOOK OF THE MONTH*
There are some aviation books that are so rare and highly sought after by collectors
from all over the world that it would be unfair to sell such a book on a 'first come' basis.
Therefore, each calendar month, Spitfire Books is offering a rare book for sale
and invites collectors to submit a 'best offer' during the month by email or telephone
---
Signed on the Title Page by 14 RAF Fighter Pilots
 Alan Kellow ~ 213 Squadron
Mike Croskell ~ 213 Squadron
Pete Brothers ~ 32 Squadron


Dennis David

 ~ 87 Squadron
Taffy Higginson ~ 56 Squadron
Desmond Sheen ~ 212 & 72 squadrons
Peter Hairs ~ 501 Squadron
HMT Herron ~ 266 Squadron (Dunkirk)
Tony Bartley ~ 92 Squadron (Dunkirk)
HM Stephen ~ 74 Squadron (Dunkirk)
Billy Drake ~ 1 Squadron
Ken Lee ~ 501 Squadron
John Gibson ~ 501 Squadron
Jan Kowalski ~ 1 Armee de l'Air

Grub Street First edition 1995. 228 pages and well illustrated with photos and maps.
Fine condition hardback book in a Fine condition dustjacket. Clean, bright, tight and unread. As new in a slipcase.
A comprehensive and superb account of the fast, furious and deadly air battles over France and the Low Countries as the German war machine swept westwards towards the Channel coast. With some 3500 aircraft, including over 1000 fighters, they were a battle hardened and formidable force.  Vastly outnumbered and fighting a desperate defensive battle, in twelve frantic and exhausting days, the RAF claimed almost 500 victories for the loss of more than 200 Hurricanes as a result of combat and the RAF gained its first aces.
The distinguished fighter pilots who have signed this book were all involved in the air fighting and scored their first victories at the start of their RAF careers, before going on to play prominent roles in the ensuing Battle of Britain.
An excellent reference book enhanced by some great signatures.