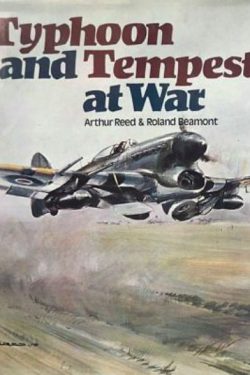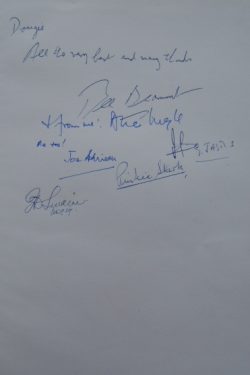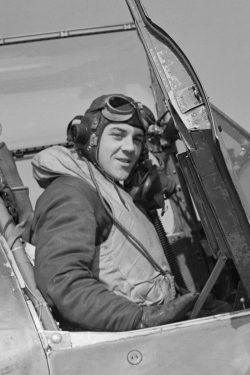 TYPHOON and TEMPEST at WAR
The Hawker Typhoon and Tempest Story
Multi-signed
Inscribed & signed by Wing Commander Roland 'Bee' Beamont  CBE DSO*DFC*
on the front end paper   

+
 609 Squadron Typhoon Pilots
Alec Ingle ~ Commanding Officer
Joe Atkinson
George Jaspis
Pinkie Stark ~ Commanding Officer
Ian Allan Ltd First edition, reprint 1990.  176 pages and very well illustrated with photographs.
A Fine condition hardback book in blue cloth boards with a Fine condition, bright dustjacket.  An excellent copy of this book.
Roland Beamont was a distinguished Battle of Britain fighter ace, leader and later an outstanding test pilot.  In this book, the authors describe the development of  the Typhoon and Tempest and their various roles in WWII.  Bee conducted many of the Typhoon test flights, commanded the first Typhoon squadron to specialise in ground attack, led a Tempest wing on D-Day operations and championed the fighters when others were pressing for their cancellation.
Often overlooked due to the many frustrations and disappointments during development, the inspired Sydney Camm design which started the war as the Tornado and finished up as the Fury/Sea Fury became a series of potent fighters in the war against Germany; the Typhoon in the ground attack role and the Tempest as an interceptor when the V-1 rockets arrived in the later part of the war.
A great book about these mighty Hawker fighters with a nice, relevant collection of signatures.