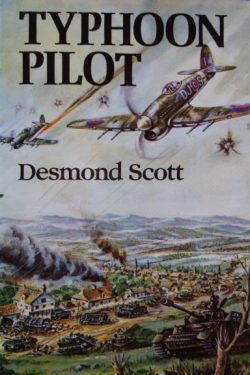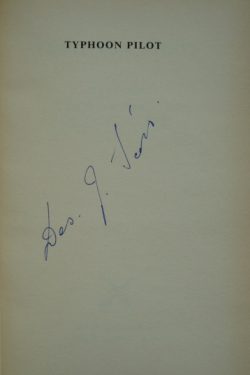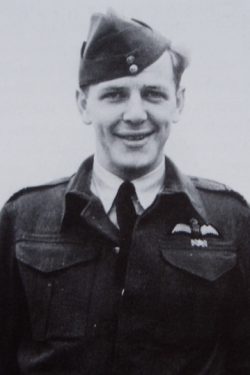 TYPHOON PILOT
The autobiography of Group Captain Desmond Scott
Signed by Group Captain Des Scott DSO OBE DFC*
Price: Serious offers invited until 31st August 2022
AUGUST     ~    *BOOK OF THE MONTH*
There are some aviation books that are so rare and highly sought after by collectors
from all over the world that it would be unfair to sell such a book on a 'first come' basis. 
Therefore, each calendar month, Spitfire Books is offering a rare book for sale
and invites collectors to submit a 'best offer' during the month by email or telephone
---
Signed on the half title page by
Group Captain Desmond Scott DSO OBE DFC*

 
 + Inscribed and dated 12:11:85 by him on the first fly leaf 
Published by Leo Cooper. First edition reprint 1983.  168 pages with photographs and photographic endpapers.
Fine condition hardback book in green boards with gilt titles.  Fine condition unclipped dustjacket. Clean, tight, fresh and feels unread. Apart from a very light even tanning of the pages throughout the book due to the quality of the paper, this is an outstanding copy of this classic memoir.
Des Scott was one of New Zealand's most famous war heroes.  During the war he commanded 486 Squadron flying first with Hurricanes, then with Typhoons.  Later, Scott commanded 123 Wing comprising 4 squadrons of rocket firing Typhoons in the invasion of Europe.  This is not only Scott's story, but that of the Typhoon and its enormous and devastating impact on the battlefields of Normandy.
A great memoir, capturing the essence of operations on the mighty Typhoon and a signed copy would be a rare addition to any aviation library. 
Click a picture to enter the gallery…