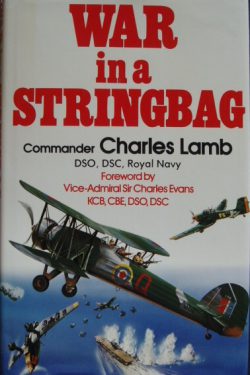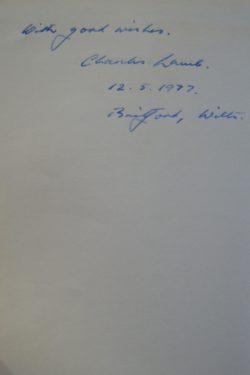 WAR in a STRINGBAG
By Commander Charles Lamb DSO DSC RN
Signed by Commander Charles Lamb
Signed by Charles Lamb opposite the title page
'With my best wishes,
Charles Lamb,
12.5.1977
Bridford, Wilts'

Published by Cassell, London, First edition 1977.  340 pages and photographs.
Very Good condition hardback book in a Fine condition dustjacket with a protective cover.
Practically obsolete even before the war, the robust, inelegant 'Stringbags' – the Fleet Air Arm's Swordfish – unbelievably were still flying against the enemy at the end of it.
This is Charles Lamb's autobiography and  as he was in the thick of the action he has quite a tale to tell. He was the last to land on COURAGEOUS before she was sunk in September 1939; he made 29 mine laying sorties over northern Europe; he attacked E-boats throughout the nine days of Dunkirk; in 1940 he was one of the two flare-droppers who led the way to the Battle of Taranto, the most famous Fleet Air Arm action of all when 20 Swordfish virtually destroyed the Italian fleet and reversing the situation in the Mediterranean and cheering the entire free world with the first good news of the war.
He flew operations in Greece, Malta, and Tunisia before being captured by the Vichy French and spent fourteen months as a POW.  He then joined the Pacific War in IMPLACABLE where a propeller smashed his leg and tragically ended his wartime flying. Charles Lamb had numerous post-war roles in the Royal Navy until his retirement in 1958 and was Honorary Admiral of the Association of Dunkirk Little Ships until his death in 1981.
One of the classic naval aviation books and neatly signed without dedication.