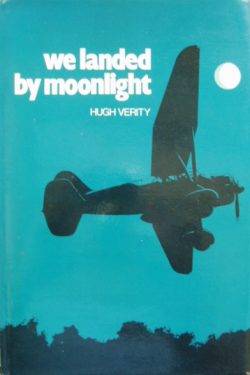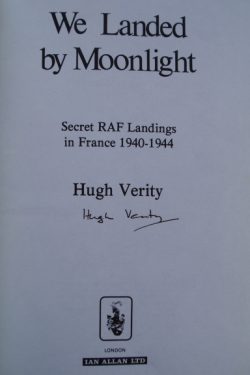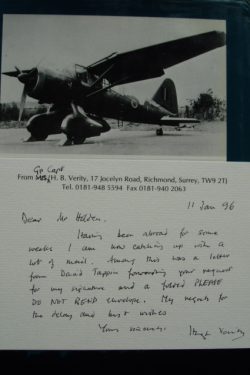 WE LANDED by MOONLIGHT
Secret RAF landings in France 1940 - 1944
Signed by Group Captain Hugh Verity DSO* DFC
Sold
Signed on the title page by
Group Captain Hugh Verity DSO* DFC
+ Personal note card hand-written and signed by Hugh Verity dated 11 Jan '96
Ian Allen Ltd First Edition reprint 1979.  256 pages including detailed appendices, sketches and photographs.
Very Good condition hardback book in a Fine condition unclipped dustjacket.  The book has scattered light foxing to a few page edges but is otherwise solid, clean and square. 
When most of mainland Europe was in the hands of the German army, the RAF flew small aircraft at night into occupied France where they landed and took off in total secrecy. These clandestine operations by the special duties squadrons supported the French Resistance and the SOE.
Hugh Verity commanded the Lysanders  of 161 (Special Duties) Squadron and flew many of these operations himself. It was a lonely, difficult and exacting job, first locating a single, isolated field at night deep into hostile territory without navigation equipment. Then landing to deposit or collect agents and returning to base avoiding detection. These operations were carried out in strictest secrecy and this book is the most comprehensive account of this 'secret war' written by a man who was awarded a double DSO and a DFC for his part in it.
A fascinating, well-written and collectable signed book for any WWII aviation library.