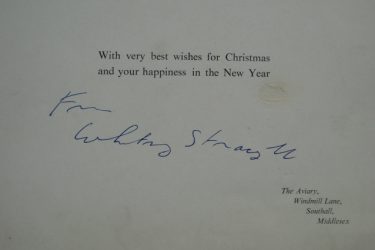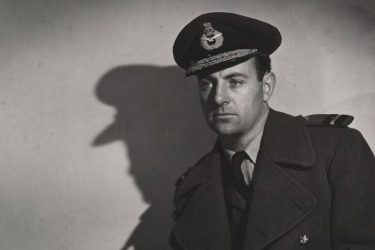 WHITNEY STRAIGHT
Battle of Britain rare signature
Card signed by Air Commodore Whitney Straight
Sold
JAN & FEB    ~    *SIGNATURE OF THE MONTH*
There are some aviation signatures that are very sought after by collectors
from all over the world, from pioneer pilots and designers to aces and astronauts. 
Therefore, each calendar month, Spitfire Books is offering an interesting signature for sale
and invites collectors to submit a 'best offer' during the month by email or telephone
---
Air Commodore Whitney Willard Straight CBE MC DFC

(1912-1979)
Grand Prix winning racing driver
Racing Team Owner
Aeroplane manufacturer & airport developer
Special Duties Norway Campaign 1940
601 Squadron Hurricane pilot during the Battle of Britain
Commanding Officer 242 Squadron
Force landed in France in 1941, evaded and returned via Gibralter
Managing Director BOAC
Drawn by Cuthbert Orde for 'Pilots of Fighter Command'
This is a signed Christmas card. The picture on the front is a Giles cartoon,
probably specially commissioned from the famous Daily Express cartoonist,
showing a winter scene of Straight's London mansion, 'The Aviary', with Straight cracking the ice
on a frozen lake for a swim – obviously a humorous reference to his mission to Norway in 1940
where he was tasked to survey & prepare a frozen lake to use as an airfield for 263 Squadron.
The card is in very good condition with a few rubs and marks 
There is a chapter on Whitney Straight's exploits in 'The Flying Sword' (The Story of 601 Squadron)
later republished as 'The Millionaire's Squadron' and a full biography of Straight is due to be published later in 2023
which will be a long overdue account of an extraordinary life. 
 A very scarce Battle of Britain signature
Click a picture to enter the gallery…..