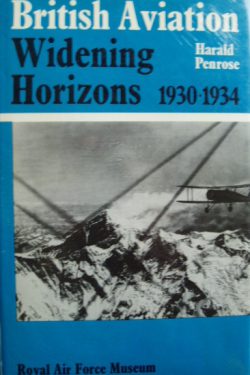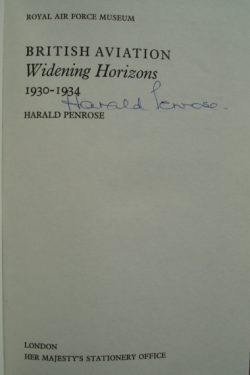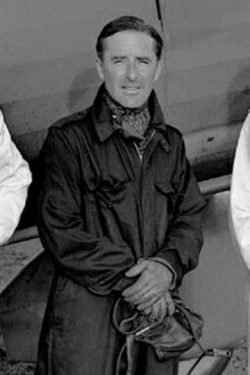 WIDENING HORIZONS
British Aviation 1930 ~ 1934
Signed by Harald Penrose
Sold
Signed by Harald Penrose on the title page

 
HMSO RAF Museum First Edition 1979.   340 pages and well illustrated with photographs.
Fine condition hardback book in a Fine condition dustjacket. Clean, bright and tight. A lovely copy. 
'Widening Skies' is the fourth volume of Harald Penrose's monumental history of British Aviation. It covers the traumatic years of world economic depression and high unemployment when aviation could not be expected to flourish. And yet it did, being an age of pioneering designers with innovation, enthusiasm and loyalty who established civil aviation as a major and permanent feature of the transport world but who never forgot Britain's need for military aircraft capability. It was an age of Barnes Wallis, RJ Mitchell, the Schneider Trophy, Amy Johnson and long distance races. Harald Penrose who was there, knew many of the participants and played a role in the development of a key industry, tells the story in his detailed, exciting and dramatic style.
Harald Penrose made his first flight in 1919 in an AVRO 504K. There followed a long and distinguished career in aviation, mainly as Chief Test Pilot for Westland Aircraft from 1931 to 1953 and his flying experience spanned light aircraft to early jet fighters and helicopters. He first flew many unusual types such as the tail-less Pterodactyl, the Lysander, the twin engine Whirlwind fighter and the fabulous but lethal Wyvern naval fighter. In latter years he became recognized as one of the finest aviation writers in the country.
A rare signed volume of aviation history.  Also available is the next volume 'Ominous Skies 1935 ~ 1939', listed separately.