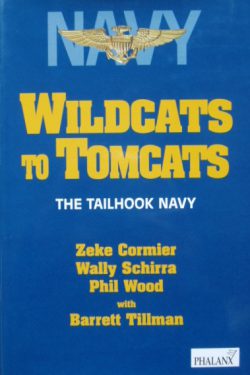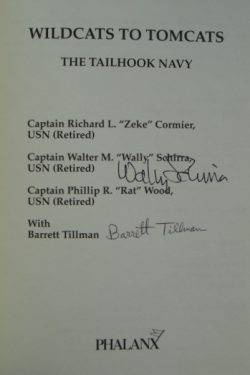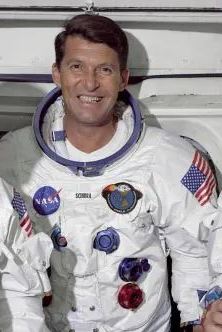 WILDCATS to TOMCATS
The Tailhook Navy
Signed by Wally Schirra
Signed by the co-author and
Captain Walter 'Wally' Schirra

Phalanx Publishing Co First edition, second printing 1996.  207 pages and well illustrated with photographs.
Fine condition hardback book in a Fine condition dustjacket. Clean, tight and bright.   
Through five decades, including WWII, Korea & Vietnam, Zeke, Wally and Phil were distinguished naval aviators. Their overlapping careers involved them in U-boat hunting, aerial combat, the Blue Angels, test flying, space flight and commanding aircraft carriers.  This book, effectively three autobiographies, describes their navy experiences involving over 14000 flight hours, 500 combat missions and 1800 carrier landings.
Zeke Cormier. Grumman Avengers in the Pacific war; an ace on Hellcats; an early member of the Blue Angels (F9F Panthers) and then sea commands.
Wally Schirra. Scored two victories over MiG 15s in Korea, became a test pilot and then was selected as one of the Mercury 7 astronauts.  He went into space on each of the Mercury, Gemini and Apollo programs – the only astronaut to do so.
Phil Wood. Flew 3 combat tours in Vietnam then commanded a squadron, a Carrier Air Group and then the carrier USS Kitty Hawk.
A great set of flying stories told with authority and humour and enhanced by the collectable signature of astronaut Wally Schirra who passed away in 2007.