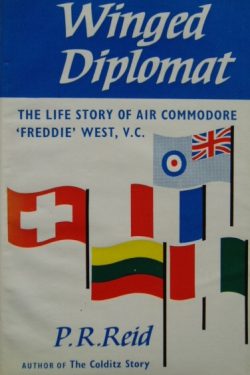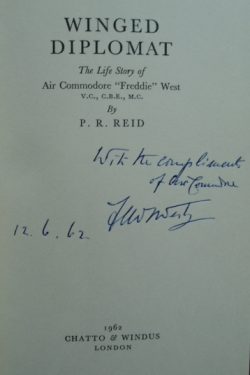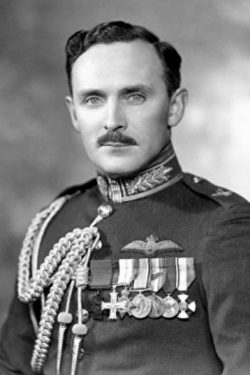 WINGED DIPLOMAT
The Life Story of Air Cdre 'Freddie' West VC
Signed by Air Cdre 'Freddie' West VC
Sold
Inscribed and signed on the title page by
Air Commodore 'Freddie' West VC CBE MC
'With the compliments 0f
Air Commodore FMF West
12.6.62'
Chatto & Windus First edition 1962. 220 pages and well illustrated with photos.
Fine condition hardback book in dark blue boards. Fine condition unclipped dustjacket.  Clean, bright and tight. This is an outstanding copy in all respects and it is hard to believe that it is nearly 60 years old as it appears so fresh.
Freddie West served in the trenches of WW1 then transferred to the RFC first as an observer and then as a pilot. He fought Von Richthofen and won a VC in an heroic action that cost him a leg. During WWII he was the Air Attache in Switzerland, involved in intelligence and this was where he first met Major Pat Reid following his extraordinary escape from Colditz.
Citation for the award of the Victoria Cross

Air Ministry, 8th November, 1918.

His Majesty the KING has been graciously pleased to approve of the award of the Victoria Cross to Lieut, (actg. Capt.) Ferdinand Maurice Felix West, M.C., – Royal Air Force (formerly of the Special Reserve, Royal Munster Fusiliers), in recognition of his outstanding bravery in aerial combat.

Captain West, while engaging hostile troops at a low altitude far over the enemy lines, was attacked by seven aircraft. Early in the engagement one of his legs was partially severed by an explosive bullet, and fell powerless into the controls, rendering the machine for the time unmanageable. Lifting his disabled leg, he regained control of the machine, and, although wounded in the other leg, he, with surpassing bravery and devotion to duty, manoeuvred his machine so skilfully that his observer was enabled to get several good bursts into the enemy machines, which drove them away. Captain West then, with rare courage, and determination, desperately wounded as he was, brought his machine over our lines and landed safely. Exhausted by his exertions, he fainted, but on regaining consciousness insisted on writing his report.
A scarce signed WWI air VC book.