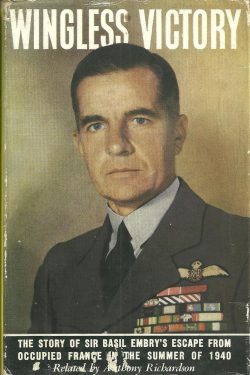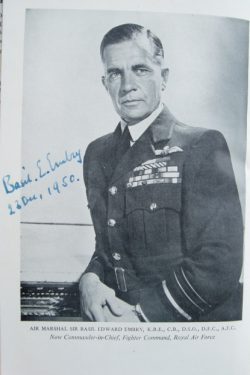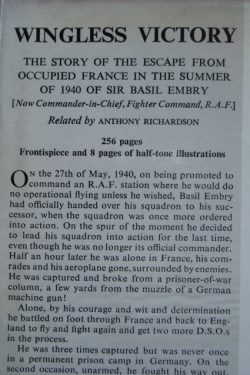 WINGLESS VICTORY
The Story of Sir Basil Embry's Escape from Occupied France in 1940
Signed by Air Chief Marshal Sir Basil Embry
Signed on the frontispiece photograph by
Air Chief Marshal Sir Basil Embry

GCB KBE DSO*** DFC AFC
Basil E Embry
23 Dec, 1950

Odhams First Edition, 3rd impression November 1950. 256 pages and well illustrated with photos of Embry retracing his escape route ten years after the event.
Very Good condition hardback book in a Very Good condition, clipped dustjacket. This is a remarkably clean and pleasing copy of a classic escape memoir.
Published in October 1950, this is one of the earliest and most popular escape stories of WWII. In May 1940 Wing Commander Basil Embry was CO of 107 Squadron, waiting to take command of RAF Station West Raynham from 28th May, but on one last low-level bombing sortie to support the British Expeditionary Force in France on 27th May he was shot down near St. Omer.  
This is the account of his mission, capture, and escape from occupied France and return to England via Spain just nine weeks and five days later becoming the first British Airman to return home after an incredible journey through France.
Sir Basil went onto command a night fighter wing during the Battle of Britain then was posted to the Desert Air Force to assist with the relief of Tobruk.  He later commanded No 2 Group which was responsible for some of the most daring and well-planned raids of the war, including low level precision attacks on the Gestapo HQs at Arhus, Copenhagen and Odense, and Operation Jericho against the prison at Amiens.  After the war, he was appointed C-in-C Fighter Command, a position he held for four turbulent years and he was in post when he signed this book. He was one of only two RAF Officers to be awarded four DSOs (the other being James Tait). After retiring in 1956, he emigrated to Australia to farm and died there in 1977.
A scarce first edition of the classic WWII escape book neatly signed by Sir Basil. A highly collectable volume.