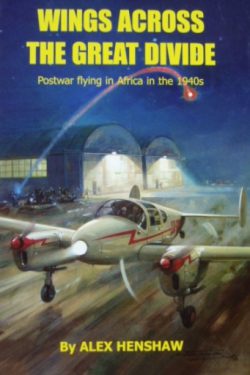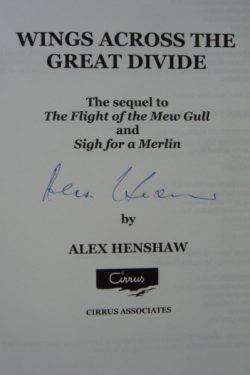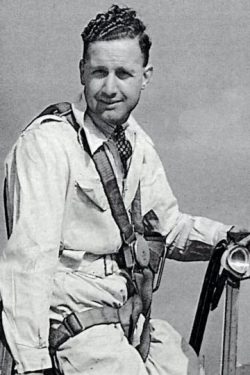 WINGS ACROSS the GREAT DIVIDE
Post-war flying in Africa in the 1940s
Signed by Alex Henshaw
Sold
 Signed on the title page by
Alex Henshaw
Cirrus Associates First Edition 2004.  183 pages and well illustrated with photographs and maps.
A Very Fine condition hardback book with a laminated cover as published. A great copy in all repects.
In 1946, after famously flying throughout the war as a production test pilot testing Spitfires and Lancasters, Alex Henshaw spent the next few years ferrying and demonstrating Miles aircraft to customers 6000 miles away in Africa.
In this his final book, Alex recalls vividly some of the horrors of flying wooden light aircraft in the often appalling and unpredictable conditions of tropical Africa. On some of these adventurous flights he was accompanied by his wife and young son.
Profusely illustrated with photos taken by the author and with 3 specially commissioned colour paintings by Michael Turner, this book gives a fascinating glimpse of the last days of relative freedom of the air overseas.
A very scarce signed book.