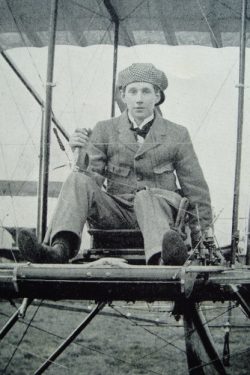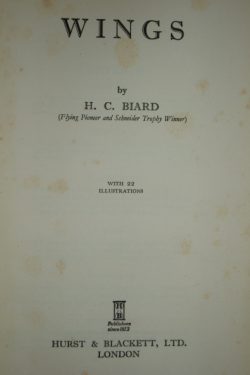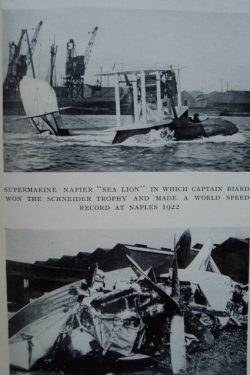 WINGS
Flying Pioneer & Schneider Trophy Winner
By Captain HC Biard
Sold
Captain Henri Biard ~ first British winner of the Schneider Trophy
Hurst & Blackett First edition 1934.  288 pages with 22 photographs
Good condition book. Clean blue boards with gilt title on the spine. Internally clean with some scattered spotting and with a solid binding.  No dustjacket. 
An extremely scarce aviation autobiography from one of the early test pilots.  Written in a light hearted style it gives all sorts of fascinating detail and anecdotes about pioneer flying and the characters who were at the forefront of aviation.
Henri Biard was the first British winner of the Schneider Trophy in 1922 flying an RJ Mitchell designed Supermarine Sea Lion II with a speed of 145 mph.  Previously he had been a pioneer aviator, recording his first flight in 1909 with no previous instruction.  Gaining Royal Aero Club Certificate 218, he flew with Hamel, Grahame-White, Paulhan and Cody in pre-war days and as a wartime instructor taught some of the famous WW1 flyers.  He saw some active service in the RNAS and in 1920 applied for and got a job as test pilot at Supermarines and in due course rose to become Chief Test Pilot.  In 1925 he set a world speed record in the Supermarine S4 and survived a high speed crash in it while preparing for the Schneider race in Baltimore USA. Biard left the company in 1933 when it merged with Vickers, flew non-operationally in the RAF during WWII and passed away in 1966.
A decent copy of an exceptionally hard to find old flying memoir which has never been republished.