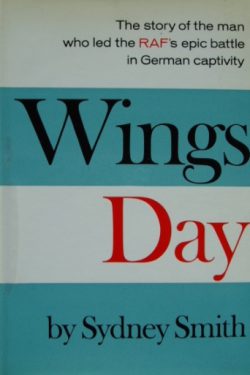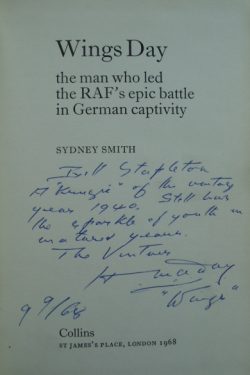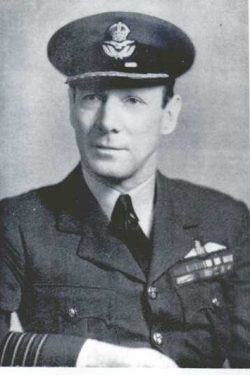 WINGS DAY
A Biography of Group Captain Harry Day GC DSO OBE
Association Copy Signed by Harry 'Wings' Day
Price: Serious offers invited until 30th June 2022
JUNE     ~    *BOOK OF THE MONTH*
There are some aviation books that are so rare and highly sought after by collectors
from all over the world that it would be unfair to sell such a book on a 'first come' basis. 
Therefore, each calendar month, Spitfire Books is offering a rare book for sale
and invites collectors to submit a 'best offer' during the month by email or telephone
---
Presentation to Wing Commander William 'Bill' Stapleton CBE OBE
Signed on the title page by Group Captain H.M.A 'Wings' Day
Bill Stapleton
A 'Kriegie' of the vintage year 1940.
Still has the sparkle of youth in matured years.
The vintage
HMA Day
"Wings"
9/9/68
Bill Stapleton (1920-2007) was a Pilot Officer flying Spitfires with 41 Squadron when he was shot down over Dunkirk on 1st June 1940. He spent 5 years as a POW, mostly in Stalag Luft III.  He was one of the vaulting horse carriers in the Wooden Horse Escape and he stayed in the RAF post war, retiring as a Wing Commander in 1964.
Collins First Edition, first impression, 1968.  252 pages plus photographs.
Fine condition hardback book in a Fine condition, unclipped dustjacket. Clean, tight and bright.  A very smart copy and comes with an Obituary of Wings Day from the Daily Telegraph.
At the age of 17 Harry Day joined the Royal Marines Light Infantry (1916) as a Probationary 2nd Lieutenant and served on HMS Britannia which was torpedoed off the coast of Gibraltar in November 1918, the incident which resulted in the award of his Albert Medal for bravery. Transferring to the Fleet Air Arm and then to the RAF, by the 1930s, Harry Day was a fighter pilot who was renowned for his formation aerobatic displays at the Hendon air shows.  He was also Douglas Bader's flight commander.  In October 1939, by now a Wing Commander, he was shot down over Germany in a Blenheim and was taken prisoner.
As a POW he was Senior British Officer in a number of different camps and a noted escaper. In May 1941 he and 17 others tunnelled out of a camp and for five days he was at liberty before being recaptured. In March 1942 he moved to Stalag Luft III at Sagan where he made a second escape attempt using a forged interpreter's pass. While in solitary confinement after that escape he tried a third escape but was again recaptured. In October 1942 he was sent to Oflag XXIB at Schubin but returned later to Sagan where in March 1943 he and 35 others tunnelled out. This time Day headed east to Poland, hoping to get on a ship to Sweden. He was recaptured and sent back to Sagan.
In March 1944 Wings took part in The Great Escape where he was number 38 out of the tunnel. He once again made his way to Stettin and once again was arrested. After interrogation by the Gestapo he was sent to Sachsenhausen concentration camp, from where he managed another escape. After another visit to Gestapo headquarters he was sent to the concentration camp at Flossenburg, where he remained until April 1945. He made one final escape attempt in the final weeks of the war and this time made it to the Allied lines.
For his services while a prisoner he was awarded the DSO and was made an Officer of the Order of the British Empire. He had been awarded an Albert Medal in the last days of WW1 and in 1971, after the change in the Royal Warrant, Harry chose to exchange his Albert Medal for a George Cross. Harry Day died in Malta on 2nd Dec 1977, aged 79.
One of the classic POW Escaper books and this is a very collectable signed true first edition with an excellent association.