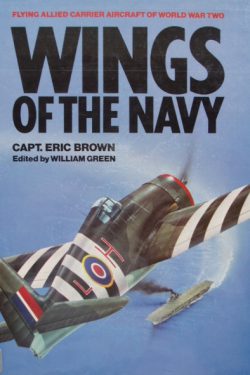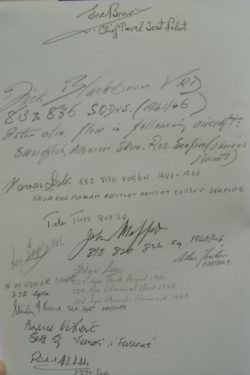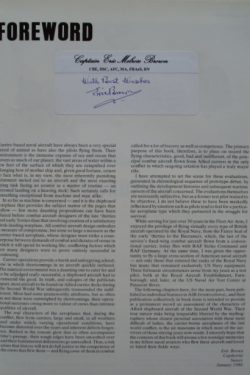 WINGS of the NAVY
Flying Allied Carrier Aircraft of World War II
Multi-Signed by Fleet Air Arm Aircrew
Sold
Signed by 12 Fleet Air Arm Pilots opposite the title page
+ a label signed by Captain Eric Brown above his Foreword
Captain Eric Brown CBE DSC AFC ~ 802 Sqn Martlets & Chief Naval Test Pilot
Lt Cdr Peter Twiss OBE DSC* ~ 807 Sqn Seafires, Malta campaign and test pilot
Lt Cdr Edgar Lee DSO ~ 825 Sqn Swordfish, Channel Dash
Lt Cdr John Moffat ~ Skuas, Gladiators, Swordfish, Bismarck attack
Lt Cdr Bruce Vibert DSC ~ 842 Sqn Swordfish, Tirpitz attack
Sub Lt Stanley Brand ~ 836 Sqn Swordfish, MAC Ships
Petty Officer Norman Usher ~ 832 Sqn Swordfish
Lt Cdr George Blackburn ~ 813 & 816 Sqns Swordfish & Seafires
Lt Cdr Arthur Towlson DSC ~ 829 Sqn Barracudas, Malta & Tirpitz
Petty Officer Les Sayer MBE DSM ~ 811 & 825 Sqns Swordfish, Bismarck attack
Lt Cdr Norman Lester ~ Martlets & Seafires 
Lt Cdr Richard Griffiths ~ Martlets, Swordfish & Seafires 
Jane's First edition 1980. 176 pages with lots of photos, cutaway diagrams and cockpit layouts. 
Fine condition hardback book and dustjacket. A great copy
Carrier operations are potentially the harshest and most dangerous test that aircraft and pilots can face. Landing on the pitching, bucking deck of a carrier or catapulted over a plunging bow, shipboard aircraft of WWII had a vital role in naval actions.  Often ignored or forgotten, this book places on record the flying characteristics, good, bad and indifferent, of 16 types that saw active service in WWII including the Swordfish, Skua, Wildcat, Fulmar, Corsair, Helldiver, Barracuda, Seafire, Firefly, Hellcat and Firebrand. 
Eric Brown was the only aviator who could have written this book.  He was the Royal Navy's chief test pilot during World War II and flew most of the aircraft used by both the Allies & the Axis. Against the historical background, he describes their construction, flight characteristics, tactical strengths & weaknesses and their operational performances. 
A fascinating read for armchair warriors enhanced by a superb collection of FAA veteran signatures.