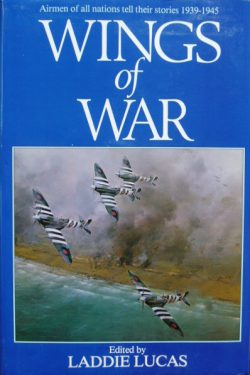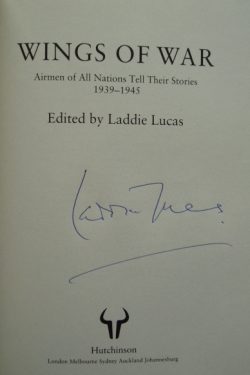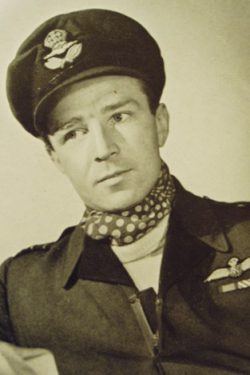 WINGS of WAR
Airmen of all nations tell their stories 1939 ~ 1945
Signed by Wing Commander Laddie Lucas CBE DSO* DFC
Signed by Laddie Lucas on the title page
Hutchinson First Edition 1983.  409 pages plus numerous pages of photographs
Near Fine condition hardback book in a Near Fine condition dustjacket.  Clean, bright and tight.
A unique and enthralling anthology compiled by Second World War flying ace, Laddie Lucas, covering the war in the air in the words of over 200 contributors from around the world who took part. Drawing  largely on the published and unpublished writings of the combatants themselves on both sides of the conflict, the book offers a vivid, immediate and highly individual account of the great aerial campaigns of World War II.
From a thrilling account of the first sustained dog-fight between Spitfire and Messerschmitt in 1940 to a Japanese suicide pilot's last letter home; from Adolf Galland's analysis of where the Luftwaffe went wrong after the Battle of Britain to a first hand account of 'The Great Escape', the book deals in a dramatic range of ways with every aspect of the war.
Full of stories of astonishing escapes and incredible bravery, dogged persistence and feats of arms, this book celebrates the bond of flying which draws men together in the face of challenge, transcending battle.  As Group Captain Duncan Smith said 'the sense of belonging to a great service in its hour of triumph lifted the spirit above the horror and bestiality of war'.
Laddie Lucas was one of the outstanding fighter aces of WWII, commanding top scoring 249 Squadron during the Battle of Malta and was later Coltishall Wing Leader.  His autobiography is titled 'Five Up' reflecting his career as fighter pilot, journalist, international amateur golfer, MP and businessman.
An excellent and entertaining aviation anthology with some superb and thought provoking stories complete with a bold and clear signature.