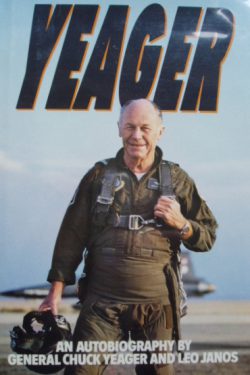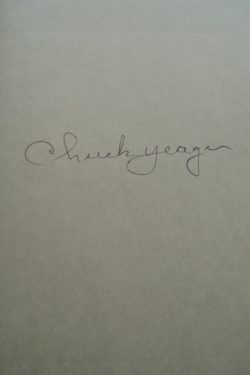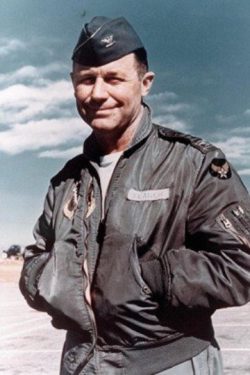 YEAGER
The story of the man who broke the Sound Barrier
Signed by Chuck Yeager
Signed on the front end paper by
General Chuck Yeager
Bantam Books, First US edition reprint 1985.    342 pages and well illustrated with photographs.
Fine condition hardback book with two tone black/cream covers and light green end papers.   Fine condition unclipped dustjacket in a protective cover. A lovely copy of this great book; clean, tight, bright and feels unread.
Charles Elwood "Chuck" Yeager was the first pilot to travel faster than sound in 1947 piloting the Bell X-1. He was also a WW2 Mustang ace who was shot down, evaded capture and returned to fight again, shooting down an Me262. Post-war he had an extraordinary testing career before returning to the USAF as a Fighter Squadron Commander and commanding a wing of tactical bombers in Vietnam. Originally retiring as a brigadier general, Yeager was promoted to major general on the Air Force's retired list 20 years later for his military achievements and flying career that spanned more than sixty years. A true aviation legend who passed away in December 2020 aged 97.
In his own words and with reminiscences from his wife and friends, General Chuck Yeager tells his incredible story of his military career, flying experiences and the Golden Age of Aviation.
A classic aviation book and a cracking read, enhanced by a bold flat signature.