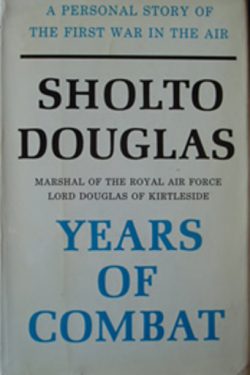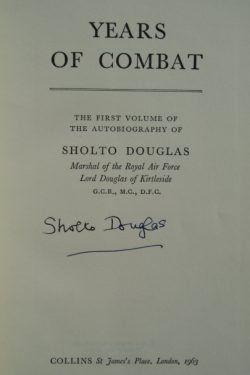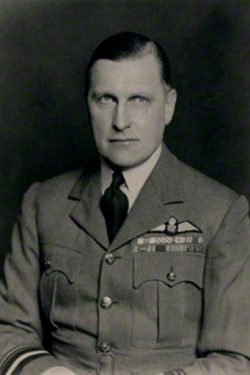 YEARS of COMBAT
A Personal Story of the First War in the Air
Signed by MRAF Lord Douglas of Kirtleside
Sold
Signed by Sholto Douglas on the title page

 
Collins First Edition 1963.   384 pages plus photographs
Fine condition hardback book and dustjacket which looks smart in its protective cover. There is a discreet name and address on the front end paper. 
Lord Douglas of Kirtleside was a wartime Commander-in-Chief for 7 years, longer than any other officer in the 3 services during WWII.  He took over from Hugh Dowding as C-in-C Fighter Command in 1940 and after the war was appointed Military Governor of the British Zone in Germany.
In this first volume of autobiography, Sholto Douglas recalls his life from when he was commissioned as a second lieutenant in the Royal Field Artillery on 15 August 1914. In January 1915, following a disagreement with his commanding officer, he transferred to the Royal Flying Corps joining No. 2 Squadron as an observer. He soon trained as a pilot and earned Royal Aero Club certificate No 1301. Promoted to lieutenant on 9 June 1915, he joined 8 Squadron, initially flying B.E.2c aircraft on the Western Front, in August 1915. He was awarded the Military Cross on 14 January 1916.
In April 1916, Douglas was made officer commanding 43 Squadron, flying Sopwith 1½ Strutters on the Western Front, and, having been promoted to major on 1 July 1916, he became then officer commanding 84 Squadron, flying S.E.5s on the Western Front, in August 1917. He was awarded the Distinguished Flying Cross on 8 February 1919.
After the war Douglas worked briefly for Handley Page as a commercial pilot before rejoining the Royal Air Force in 1920 after a chance meeting with Hugh Trenchard and this is where this volume concludes.
In this fascinating memoir, Sholto Douglas vividly shares his personal experiences of WW1. An excellent book with a very collectable signature.