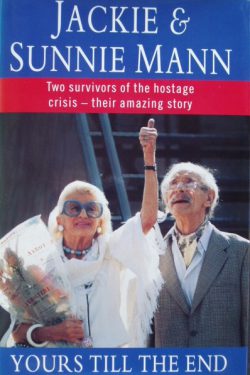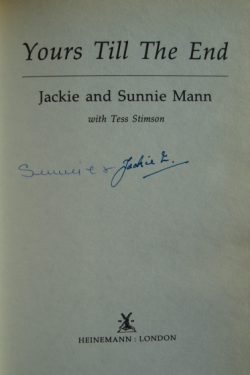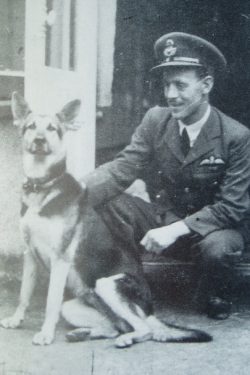 YOURS till the END
The autobiography of Jackie Mann, Battle of Britain Pilot & Beirut hostage
Signed by Sqn Ldr Jackie Mann CBE DFM
Signed by Jackie & Sunnie Mann on the title page
Published by Heinemann. First edition, first impression, 1992.  256 pages and well illustrated with photographs.
Near Fine condition hardback book in a Fine condition dustjacket.  Clean, bright and tight. A pleasing copy.
Jackie Mann had his time of glory as a Spitfire pilot during the Battle of Britain in 1940 but had fame thrust upon him by becoming one of the last hostages to be freed in Beirut.  This is an account of his 865 day ordeal interspersed with the story of his life as a pilot and expatriate bar owner and his life with Sunnie, a wartime ambulance driver whom he had married in 1943.
Mann was a Sergeant Pilot with 64 and 92 Squadrons during the Battle of Britain  He was an ace with 5 victories over Bf109s and was shot down six times, on the last occasion (possibly by Adolf Galland) being seriously burned and he became one of MacIndoe's 'Guinea Pigs'.  On his recovery, he joined Ferry Command on the North Atlantic delivery route which led to him becoming an airline pilot after the war based in the Middle East. Taken hostage in 1989 and released to a media storm in 1991, he was awarded a CBE to add to the DFM that he won in 1941.  They retired to Cyprus where Sunnie died in 1992 and Jackie in 1995.  
A scarce signed Battle of Britain related memoir.