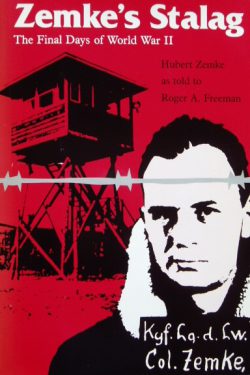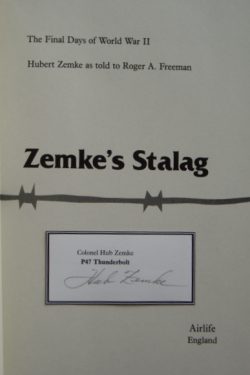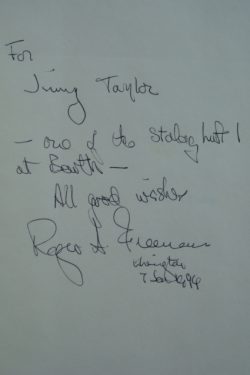 ZEMKE's STALAG
The Story of Hub Zemke in the final days of WWII
Signed by Colonel Hub Zemke
Bookplate signed in pencil by Hub Zemke on the title page
Inscription from the author, Roger Freeman on the front end paper

For Jimmy Taylor (RAF PRU Spitfire pilot)
– One of the Stalag Luft I at Barth –
All good wishes.
Roger A Freeman
Elvington. 7 Jan 1994
Airlife First UK edition 1991. 148 pages plus many pages of photographs.
Fine condition hardback book and dustjacket. Clean, bright and tight. A super copy. 
Hub Zemke was the CO of the 56th Fighter Group which emerged as the most successful American fighter unit in Europe.  Flying red nosed P-47 Thunderbolts, Zemke's Wolfpack scored more aerial victories than any other in this theatre, its tenacious, inspiring and aggressive leader downing at least 19 aircraft himself. 
After his aircraft disintegrated in a storm over Europe in 1944, Zemke was imprisoned in Stalag Luft I. As the highest ranking Allied officer, he found himself in charge of nearly 9,000 POWs. Under brutal conditions, Zemke's priority became the survival of every POW in his command. He helped organize the POWs to outdo and outwit their German captors at every move; he prevailed upon the Kommandant to allow American Red Cross food parcels and clothing. Zemke and his men used subterfuge to penetrate the camp's inner headquarters, eventually persuading their captors to hand over control of the camp before the Soviets arrived and without a shot being fired.
This book tells Zemke's story as narrated to author Roger Freeman as a follow up to his first volume 'The Hub ~ Fighter Leader'.  A general once described Zemke as a typical fighter pilot: "chip on his shoulder, makes excellent eye contact, not insolent, just confident." He was an extraordinary man, meeting the challenges of extraordinary times. He was outspoken and courageous, with unflagging personal integrity and conviction.
Flt Lt Jimmy Taylor was an RAF photographic reconnaissance Spitfire pilot who was forced to bale out of his Spitfire following an engine failure over Holland in autumn 1944.  He had adventures with the Dutch Resistance before being captured and made a POW for the rest of the war. His story is told in his autobiography 'One Flight Too Many'.
A fascinating and very readable book about one of the most successful and colourful characters in the USAAF enhanced by a neat inscription & Zemke signature.