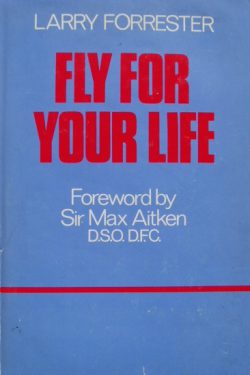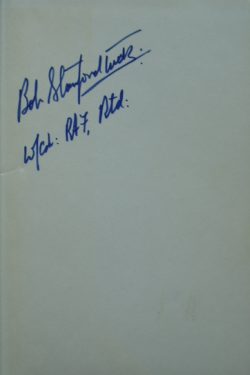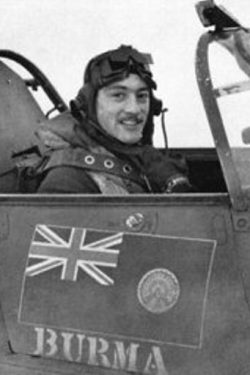 FLY For Your LIFE
The Story of Wing Commander Bob Stanford Tuck DSO DFC**
Signed by Bob Stanford Tuck
Signed on the front end paper by
Wing Commander Bob Stanford Tuck 
Frederick Muller Limited.  Revised Edition  1973 with a new foreword by Sir Max Aitken. 367 pages.  Frontispiece portrait and 30 photos.
Near Fine condition hardback book in blue boards and with bright gilt titles on the spine.  Clean, bright and tight. Very Good condition clipped dustjacket with some edge wear and light rubbing.  This book, aside from the new foreword, is identical to the original first edition from 1956. For information, the pictorial first edition dustjacket fits this book perfectly and a smart reproduction of this dustjacket comes with this copy to enhance its presentation on the shelf.
With 29 victories, eight probables and six damaged, Bob Stanford Tuck was one of the greatest fighter aces of WWII though his combat career only lasted 18 months from Dunkirk to January 1942 when he was shot down by ground fire in northern France.  Imprisoned in Stalag Luft III, he escaped eastwards, because he was a Russian speaker, and joined the advancing Soviet troops.
This is the authentic, enthralling tale of a man who deservedly became a hero and had more than his share of hairsbreadth escapes. He survived two mid-air collisions, baled out four times, crash landed several times and ditched in the channel; on various occasions enemy fire set his aircraft ablaze, shattered his windscreen, blew the throttle lever out of his hand and flipped the oxygen mask off his face. So phenomenal was his luck that he became known as 'The immortal Tuck'. 
In his foreword Sir Max Aitken writes: '…the personality of the man comes over, the elegant swashbuckler I knew so well at the time, who was fanatically dedicated to the task at hand and who was, now and then, quite a headache to his service superiors. 'Fly For Your Life' recalls the exploits of a magnificent pilot, a legend in Fighter Command and famous far beyond it.  It is a vivid, enthralling story.'
One of the classic Battle of Britain books and this is a smart copy signed for sale at the RAF Museum shop.  A fabulous addition to any aviation book collection.