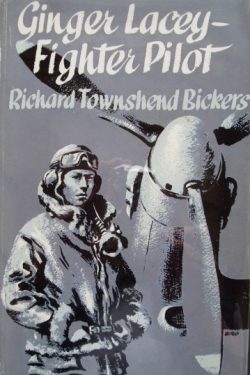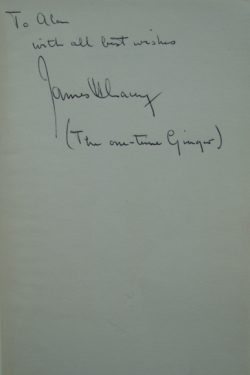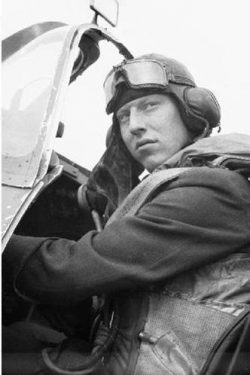 GINGER LACEY ~ Fighter Pilot
By Richard Townshend Bickers
Signed by James 'Ginger' Lacey
Price: Serious offers invited until 30th April 2021
APRIL     ~    *BOOK OF THE MONTH*
There are some aviation books that are so rare and highly sought after by collectors
from all over the world that it would be unfair to sell such a book on a 'first come' basis. 
Therefore, each calendar month, Spitfire Books is offering a rare book for sale
and invites collectors to submit a 'best offer' during the month by email or telephone
---
Signed by James 'Ginger' Lacey on the front end paper
'To Alan
With all best wishes
James H Lacey
(The one-time Ginger)'
Robert Hale First edition, 2nd impression April 1962.  The book was originally published in February 1962.
Fine condition hardback book in a Near Fine condition unclipped dustjacket with just a few marks to the top of the rear panel.  The book itself is clean, bright, solid and square. This is a particularly pleasing copy of a scarce first edition book with its striking Biro jacket artwork.
The biography of the brave and modest young sergeant pilot who for many years was almost unknown outside the RAF. Some excerpts from the Dustjacket 'Blurb':
Battle of Britain Top Scorer ~ First Spitfire Over Japan ~ Toughest CO in Burma ~ The man who shot down the Heinkel that bombed Buckingham Palace. "In this book, a fellow pilot unravels the story of one of the greatest of The Few; the legendary eccentric, inspired humourist, hunter of the air and the deadliest marksman of them all.
Unorthodox, autocratic in his command but resentful of unreasonable interference from those above him, Ginger Lacey was a slim, pale, boyish looking figure with a fantastic gift for leadership, and sharp eyes, bravery and an innate sense of timing.  His story is told by an experienced writer who was a fellow RAF Officer and who knew him well.  It is a memorable story, memorably told".
A very scarce signed copy of this classic Battle of Britain biography in as good a condition as you are likely to find.