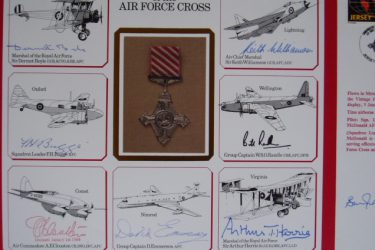 AIR FORCE CROSS
Large First Day Cover
Signed by Sir Arthur Harris
Air Force Cross ~ RAF Awards Series ~ RAF (DM) 1
Signed by
MRAF Sir Dermot Boyle
WWII Bomber Commander.  Chief of the Air Staff 1956-1959

Air Chief Marshal Sir Keith Williamson
Lightning Squadron Commander. Chief of the Air Staff 1982-1985
Squadron Leader FH Bugge
WWI Fighter pilot
Group Captain Bill Randle 
WWII Wellington Pilot
 Air Commodore Arthur Clouston
Facsimile signature
Group Captain David Emmerson
Nimrod Squadron Commander
MRAF Sir Arthur Harris
WWII Commander-in-Chief Bomber Command
This cover is part of the DM Medal series of 19 flown covers illustrating the principal honours, decorations and campaign medals which have been awarded to members of the Royal Flying Corps, Royal Air Force and Royal Air Force Regiment, the Royal Naval Air Service and the Fleet Air Arm.
Each cover which measures a large 32cm x 23cm carries the signatures of seven airmen, whose gallantry or leadership in the service of their country, has been recognised by the award shown.
It is also flown by the RAF with a flight cachet on the cover. There is also an illustration of the medal printed on silk and fixed to the cover.
A Fine condition cover complete with inserts.
Other covers in the series are also available – please enquire