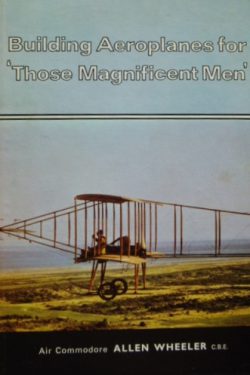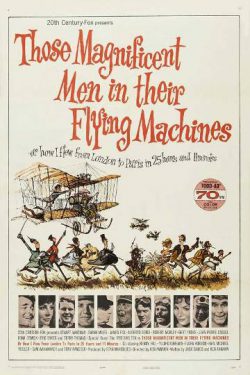 BUILDING AEROPLANES for 'Those Magnificent Men'
by Air Cdre Allen Wheeler CBE
GT Foulis & Co Ltd. First Edition 1965.  95 pages and well illustrated with over 50 photographs.
A Fine condition hardback book in the original yellow 1/4 cloth, glazed pictorial boards as published. A great copy of this scarce book.
For this famous movie set in 1910, the author as Director of The Shuttleworth Trust was tasked with supervising the design, production and flying of more than six representative replicas of the machines of the period.  In this book, he describes in considerable detail how this was achieved with, in many instances, nothing but old photographs or old men's memories to go upon.
Besides being a most readable story of great enterprise, bravery and many amusing incidents, the book throws a lot of light on the design and construction of those precarious craft in which our forbears conquered the air.  The fact that the ultimate objective was just a funny film for pure entertainment in no way reduces the value of the contribution which this book makes to aviation history.  The ten descriptive chapters form a record of lasting value and greatly enhance the enjoyment of the film.
Allen Wheeler was commissioned in the RAF in 1925 and trained as both an engineer and pilot before attending Staff College in 1933. During the Second World War he commanded the Performance Testing Squadron at Boscombe Down and the Experimental Flying Department at Farnborough.Later he was involved in development flying for the airborne forces before the invasion of Sicily, and he commanded RAF Fairford during the Normandy landings.  Post-war, he commanded RAF Cyprus and the Aeroplane and Armament Experimental Establishment at Boscombe Down. In 1947 he became the Shuttleworth Trust's first Aviation Trustee, holding that position until 1980.  He also bought the Spitfire 1 AR213 (G-AIST) in 1947 which starred in the Battle of Britain movie and is a stalwart of the air show circuit. He died in 1984.
A very scarce book and a fascinating read.
This book is listed on ACE. 
For further details or to purchase, please contact Spitfire Books by phone or e-mail