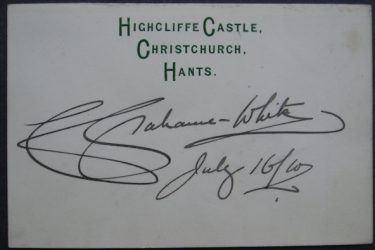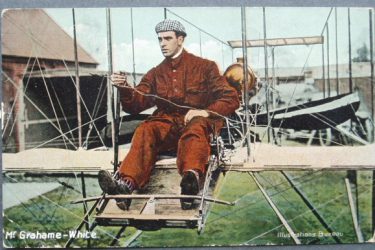 CLAUDE GRAHAME-WHITE
Britain's Pioneer Aviator
Signed by Claude Grahame-White
Card signed by
Claude Grahame-White
July 16, 1910
Plus vintage colour 'National Series' postcard of Mr Grahame-White circa 1910
Both Items are in Very Good condition. The signature is on heavyweight cream card with the address embossed in green. The reverse has some residue indicating that it had been stuck in an album. It measures approx. 5 x 3 inches.  The postcard is half an inch bigger in both dimensions and is used with a halfpenny stamp and a message referencing a visit to 'the aviation ground'. 
Claude Grahame-White (1879-1959) was an aviation pioneer and the most famous aviator in Britain before the First World War. He could be regarded as Britain's, if not the world's, foremost all-round aeronaut. He was the only man ever to hold the three most coveted gold medals for flying: from the Royal Aero Club, the Aero Club de France and the Aero Club of America.  He taught himself to fly, and soloed without a single lesson, becoming the first Briton to hold an internationally recognised pilot's certificate. Single handed he developed 'London Aerodrome' at Hendon which was extremely popular with the public as the site of flying displays. He opened the first British school of flying there becoming the pioneer instructor, and he also set up his own aircraft design and manufacturing company – the buildings still exist as part of the RAF Museum at Hendon.
Grahame-White was always looking for ways to highlight Britain's vulnerability from the air. From 1911 he gave demonstrations to the Parliamentary Aerial Defence Committee, dropping flour bombs on the painted outline of a battleship, for example. In the summer of 1912 he flew around the country in his 'Wake up England!' campaign. He also wrote widely on the subject, including The Aeroplane in War (1912), with the Daily Mail's air correspondent Harry Harper.
When war came, Grahame-White was briefly in RNAS service: on 5 September 1914, he patrolled over London looking for a reported  Zeppelin: supposedly the first air patrol in defence of a city. He took part in the Cuxhaven raid but had to ditch in the sea before reaching the target. After resigning his commission, he turned his energies to aircraft production with some success. He continued to write with Harper including 'Air Power: Naval, Military, Commercial' (1917), which was the first to  predict that the next war would be won through the bombing of cities.
After the war, protracted legal wrangles with the government over monies owed him for aircraft production and for Hendon (compulsorily acquired) soured him on the aviation industry, instead he took up real estate, and made a fortune in Britain and America. Despite his unique contribution to world aviation, he was never honoured and no doubt his law-suit against the Government had much to do with this – particularly as he won it! 
 CG-W died in August 1959 just two days before his 80th birthday.