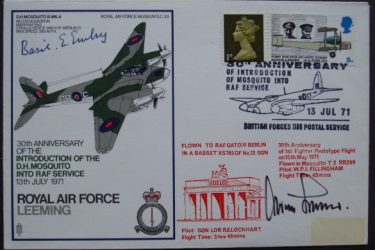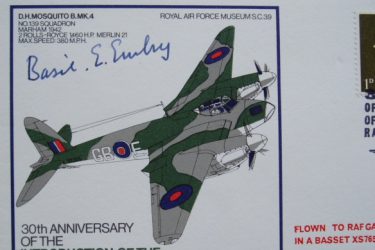 EMBRY & GALLAND
Signed by Sir Basil Embry & Adolf Galland
RAF Mosquito Anniversary Cover 1971
Signed by
Air Chief Marshal Sir Basil Embry

GCB KBE DSO*** DFC AFC
&
General Adolf Galland KC
---
Joining the RAF in 1921, Embry had an outstanding career, retiring as Commander-in-Chief Allied Air Forces Europe in 1955.  During his service he flew initially in Iraq and India rising to command a Blenheim Bomber Squadron at the outbreak of WWII.  He was shot down during the Battle of France and became the first British Airman to return home after an incredible escape through France detailed in the classic book 'Wingless Victory'.  
He commanded a night fighter wing during the Battle of Britain then was posted to the Desert Air Force to assist with the relief of Tobruk.  He later commanded No 2 Group which was responsible for some of the most daring and well planned raids of the war, including low level precision attacks on the Gestapo HQs at Arhus, Copenhagen and Odense, and Operation Jericho against the prison at Amiens.  Directly after the war, he was appointed  C-in-C Fighter Command, a position he held for four turbulent years. His autobiography 'Mission Completed' is a riveting read.
After retiring, he emigrated to Australia to farm and died there in 1977.
---
Adolf Galland was an outstanding fighter leader who was torn from the cockpit to defend his country – and sometimes his own pilots – in the bizarre bureaucracy of the Luftwaffe High Command. The most famous German ace and fighter leader of his generation, Galland's autobiography 'The First and the Last' is simultaneously that of the Luftwaffe Fighter Arm, in which he served from foundation to finish.
Galland's combat career began in the Spanish Civil War and continued from the Polish campaign of 1939 right through to the defeat of Germany in 1945, when he was flying Messerschmitt 262 jet fighters. From the outbreak of hostilities Galland rose quickly in rank and influence, becoming chief of Luftwaffe fighters, a position he lost as a result of difference with Hitler. He then returned to front line flying until the end of the war. He was a prominent post-war personality and passed away in 1996.
---
 A possibly unique cover signed by two outstanding RAF & Luftwaffe commanders
Fine condition