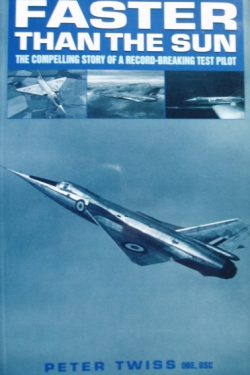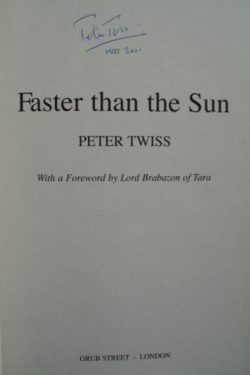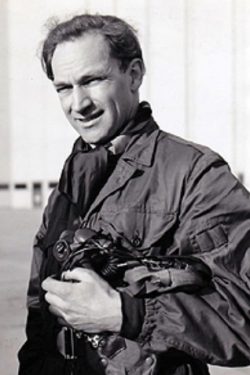 FASTER than the SUN
By Lt Cdr Peter Twiss OBE DSC* RN
Signed by Peter Twiss
Signed on the title page by
Peter Twiss
May 2001
Published by Grub Street Revised edition 2000.  216 pages and well illustrated with photographs.
Fine condition card cover book. Clean, bright and tight.
The story of the record breaking Fairey Delta 2 by the man who flew through 1000 mph for the first time in history.
Peter Twiss first achieved national prominence in March 1956 when, as a test pilot, he gained the World Air Speed Record in the Fairey Delta 2, flying at a speed of 1132 mph over Chichester in Sussex. Seventeen years earlier, in 1939, he had joined the Fleet Air Arm to serve his country in war, seeing action in Fulmars over the convoys to Malta in June 1942, in Seafires during the Operation Torch landings in NW Africa, and as a night fighter flying Mosquitoes.
Originally written in 1963, this new revised and expanded edition includes his hitherto unpublished war experiences, new photos and covers the compelling story of his struggle to break the thousand miles per hour barrier, which has been described as one of the epic accounts of high-speed flight.
Peter died in 2011 and this book is testament to his contribution to aviation as one of Britain's greatest test pilots.