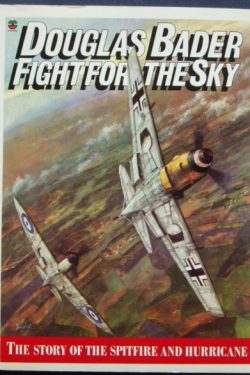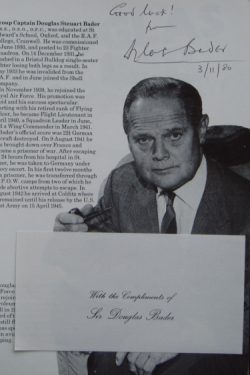 FIGHT for the SKY
The Story of the Spitfire and Hurricane
Signed by Douglas Bader
Sold
Signed by Douglas Bader without dedication
'Good luck from Douglas Bader 3/11/80'
Comes with an original personal compliments slip 
Fontana Collins Card cover edition 1975. 168 pages, well illustrated with black and white and colour photographs.
A nearly fine condition cardcover book, clean, tight and sharp.
This is the only book written by Douglas Bader and it is an interesting read. It is superbly illustrated and has fascinating contributions from some legendary RAF pilots such as Johnnie Johnson, Al Deere and Hugh Dundas.
Douglas Bader has clearly signed above his photo on his biographical page and has added the date. The book is undedicated and it comes with Sir Douglas Bader's personal compliments slip which is loose.
This item is listed on ACE


To purchase or discuss please contact Spitfire Books