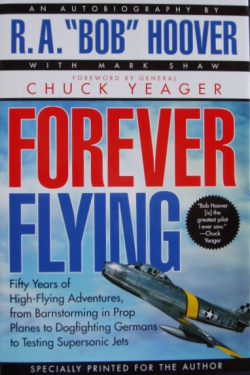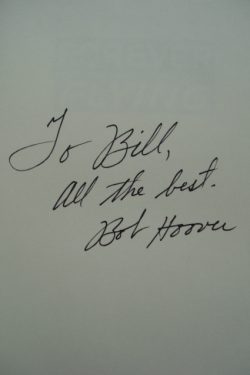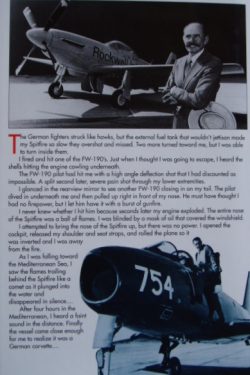 FOREVER FLYING
Fifty years of barnstorming to dogfighting Germans to testing supersonic jets
Signed by Bob Hoover
Signed on the front end paper by
R.A. 'Bob' Hoover 

Pocket Books First Edition, first printing 1996. 291 pages and lots of photographs and illustrations
Very Fine condition hardback book in two tone blue boards with a similar condition dustjacket.  Nearly as new.
"Bob Hoover is the greatest pilot I ever saw" Chuck Yeager
"Bob Hoover – the greatest stick and rudder pilot who ever lived" General Jimmy Doolittle
A WW2 fighter pilot, Hoover escaped from Stalag Luft 1 and stole a Focke Wulf 190 flying it to freedom.  Post-war he was a test pilot and Yeager's back-up for the X-1 program.  He was a consultant and legendary aerobatic demonstration pilot who specialised in routines in a twin engine Shrike with both engines feathered!  Bob passed away in 2016 but is commemorated in the Bob Hoover Legacy Foundation – see here: Hoover Legacy
See this excellent film on YouTube about his life narrated by Harrison Ford: Bob Hoover: Perfecting Flight
A scarce signed book outside the USA and an absolutely astounding read!