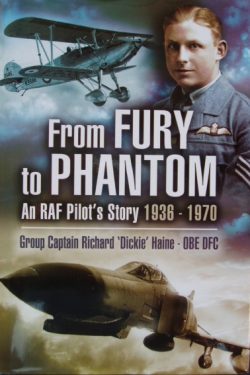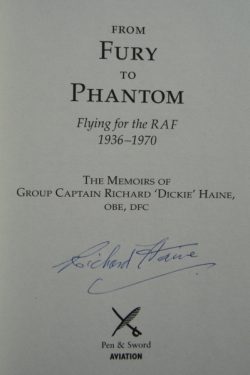 From FURY to PHANTOM
An RAF Pilot's Story 1936 ~ 1970
Signed by Group Captain Richard 'Dickie' Haine OBE DFC
Signed by Richard Haine on the title page
Pen & Sword First Edition 2005.  234 pages and well illustrated with photos
Mint condition hardback book and dustjacket.  As new.
During Dickie Haine's long RAF career, he flew an extraordinary variety of aircraft.  Initially a fighter pilot on Hawker Furies and Gloster Gladiators with 25 Squadron, the squadron re-equipped with the Bristol Blenheim and he became a specialist night fighter pilot.
He was shot down over Holland in May 1940 and after a hazardous journey on foot, secured passage back to England on an RN Frigate.  During the Battle of Britain he flew night fighter Blenheims and Beaufighters and then took command of 96 Squadron flying Defiants.  After a tour as a staff officer at Fighter Command, he took command of 488(NZ) Squadron flying the Mosquito and personally shot down a pair of Junkers. His post-war career was interesting and varied until his retirement from the RAF in 1970.
A welcome addition to any Battle of Britain library.