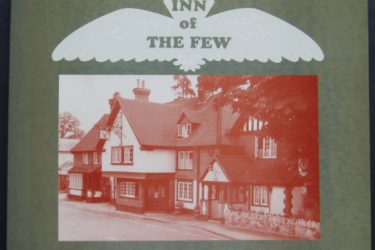 INN of 'THE FEW'
The Story of The White Hart at Brasted 1932 ~ 1971
Spellmount First edition 1993.   96 pages and full of excellent photographs.
Very Good condition A4 (landscape) size cardcover book.  A clean and bright copy of this scarce book. It comes with an original menu from the pub dating from 1993 when you could get a steak and chips and pint for £10!
In the dark days of 1940, Churchill's Few (and 92 Squadron in particular) who had battled all day over the skies of southern England, needed a haven where they could escape the traumas of war for a few hours in the ever welcome company of landlords Kath and Teddy Preston.  The Prestons shared in the hopes and fears, the elations and sorrows of men who daily lived their lives on the edge.
The White Hart, with its famous blackboard of signatures was, according to Brian Kingcome, the spiritual home of 92 Squadron and 'Inn of the Few' is a great tale of the role that this pub played in those precarious days, full of anecdotes of the famous people who crossed its threshold. 
This is a scarce book deserving a place on any Battle of Britain bookshelf.