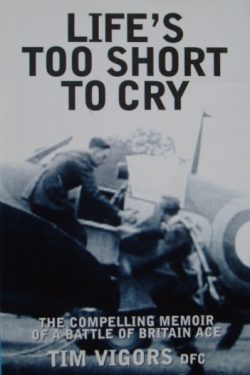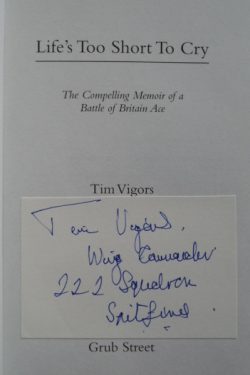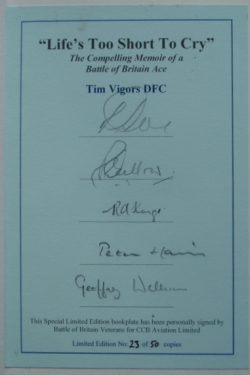 LIFE'S too SHORT to CRY
The Memoir of a Battle of Britain Ace
Signed by Wing Commander Tim Vigors DFC
Card on the title page signed by
Wing Commander Tim Vigors
222 Squadron,  Spitfires

Limited edition 23/50 bookplate on the front end paper
signed by five of 'The Few'
Wing Commander Bob Doe
Squadron Leader Alan Kelow
Squadron Leader Robert Kings
Flight Lieutenant Peter Hairs
Squadron Leader Geoffrey Wellum
Grub Street, London 2006. First edition.  265 pages plus photographs
Fine condition hardback book in a Fine condition unclipped dustjacket. Nearly as new.
Tim Vigors was one of the most colourful of 'The Few' and in this posthumously published memoir he portrays himself as a devil-may-care Eton educated Irishman who joined the RAF simply because he wanted to learn to fly without paying.  He cut a dashing figure with an Irish tricolour painted on his Spitfire and his faithful dog Snipe scampering to meet him when he landed.
He saw frantic and distinguished service over Dunkirk and then during the dangerous days of the Battle of Britain when aged 19 he became an ace. Transferred to the Far East in January 1941 as a flight commander first with 243, then on to 453 Squadron RAAF, on 10th December he led a flight of Brewster Buffaloes to cover the infamous sinking of the Prince of Wales and Repulse. Dramatically shot down, burnt and attacked on his parachute, he was evacuated to Java, and from there to India.
Postwar, Tim was no less active, primarily in the horse world, in Ireland and England, selling, breeding and consulting; but also in aviation, with his own company Vigors Aviation.
Tim Vigors died in November 2003 before publication of this book.
One of the best Battle of Britain memoirs of recent years, enhanced by a scarce Vigors signed card and a multi-signed bookplate.