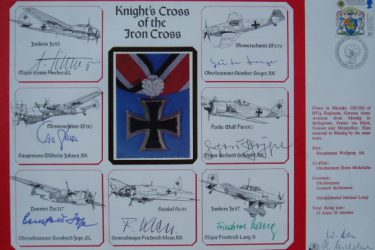 LUFTWAFFE ACES
Knight's Cross of the Iron Cross
Signed by 7 Knights Cross recipients
Knight's Cross of the Iron Cross ~ RAF Awards Series ~ RAF (DM) 19
Signed by
Major Erwin Fischer
Flew Do17, He111, Ju88, Me110, Poland, Battles of France & Britain, Malta & North Africa
The only reconnaissance pilot to receive this award

Hauptmann Wilhelm Johnen
Night fighter ace with over 34 victories. Author of 'Duel Under the Stars'
Oberstleutenant Bernhard Jope
Fw200 Kondor pilot. Kommodore KG100 and KG30
Generalmajor Freidrich Kless
Commanded He 111 Gruppe in the Battle of Britain
 Major Friedrich Lang
Flew 1000 missions in the Ju87 Stuka in Poland & France
Oberleutenant Gunther Seeger
Me109 pilot in the Battle of Britain, ending the war with 56 victories
Major Gerhard Schopfel
Commanded III/JG26 in the Battle of Britain. He flew 700+ missions and had 40 victories
This cover is part of the DM Medal series of 19 flown covers illustrating the principal honours, decorations and campaign medals which have been awarded to members of the Royal Flying Corps, Royal Air Force and Royal Air Force Regiment, the Royal Naval Air Service and the Fleet Air Arm.
This Knights Cross cover was the last in the series and added in 1987 to mark the cordial post-war relationship between the RAF and Luftwaffe within NATO and the many personal friendships now established between former combatants.
Each cover which measures a large 32cm x 23cm carries the signatures of seven airmen, whose gallantry or leadership in the service of their country, has been recognised by the award shown.
It is also flown by the RAF with a flight cachet on the cover. There is also an illustration of the medal printed on silk and fixed to the cover.
A Fine condition cover complete with inserts.