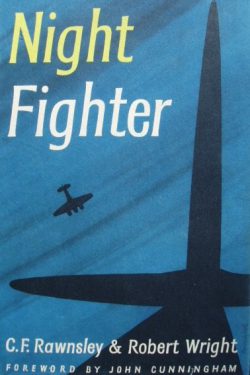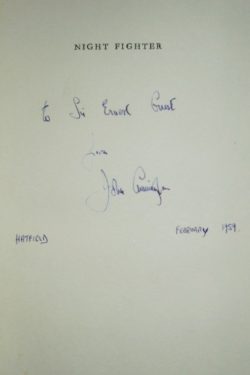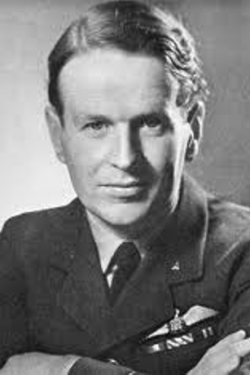 NIGHT FIGHTER
By CF Rawnsley & Robert Wright
Signed by John Cunningham
Sold
Presentation signed by John Cunningham on the half title page
Hatfield, February 1959

Collins First edition, first impression 1957. 382 pages and well illustrated with photographs.
Very Good condition book and Very Good condition dustjacket.  The inside is clean and it looks good in its protective wrapper.
This book was presented by John Cunningham to Colonel Sir Ernest Guest  (1882–1972) who was a Rhodesian politician, lawyer and soldier. He held senior ministerial positions in the government, most notably as Minister for Air during WWII and was involved with the Empire Air Training Scheme.  One of his sons was in the RAF and was awarded the DFC before being KIA in 1943.  Sir Ernest's bookplate bearing his family coat of arms and the motto 'Labore et Honore' is on the front end paper.
Jimmy Rawnsley served as air-gunner and then as navigator to John Cunningham, the leading night fighter pilot of the Second World War, and remained so almost to the end. Robert Wright was also a Radar Operator on 604 squadron and this classic book describes their experiences on their night interceptions during and after the Battle of Britain.
Johnnie Johnson reviewed the book and wrote: 'A great story: not only of night fighting but also of the hazards of seeking and stalking in the darkened skies. So entirely different from the quick thrust and parry of our own daylight duels against the Luftwaffe.'
This is the classic account of the night war over Britain neatly signed by the main subject of the book, Group Captain John 'Cats-eyes' Cunningham DSO** OBE DFC*, shortly after the book's publication when he was Chief Test Pilot at De Havilland.