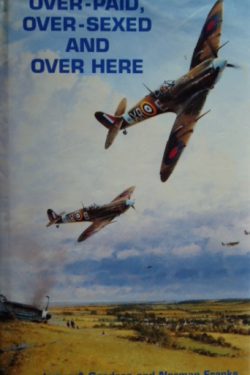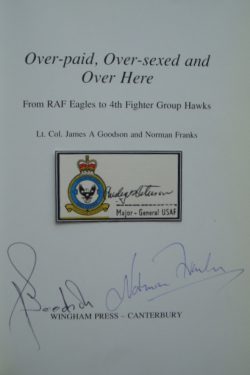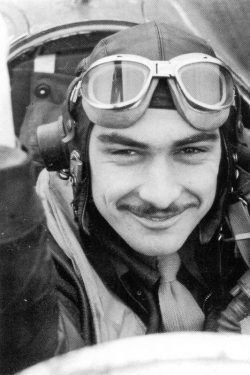 OVER-PAID, OVER-SEXED and OVER HERE
From RAF Eagles to 4th Fighter Group Hawks
Signed by Colonel James Goodson
Signed by James Goodson and Norman Franks on the title page
+ Bookplate signed by Chesley Peterson
Wingham Press First edition 1991. 207 pages and well-illustrated with photographs
Near Fine condition hardback book and dustjacket. Clean tight and unmarked.
This is an account of those American pilots who flew with the RAF as members of the Eagle Squadrons and either stayed with the RAF or transferred to the 4th Fighter Group in 1942. Besides covering the factual achievements of those pilots and squadrons, this book covers the 'off the record' stories that helped to make the Eagles not only a formidable nucleus for the 8th Air Force in Britain, but a memorable bunch of 'Yanks' whom most of the British public took to their hearts, even though they half-jokingly thought that these and their fellow Americans were 'over-paid, over-sexed and over here!'
James Goodson is well qualified to write this story as he was one of the first US volunteers to join the RAF Eagle Squadrons and he flew in continuous combat in Hurricanes and Spitfires before transferring to the US 4th Fighter Group flying Thunderbolts and Mustangs.  He was credited with 32 enemy aircraft before being shot down himself and his personal story has been told in 'Tumult in the Clouds' and 'Last of the Knights'.
Chesley Peterson commanded 71 Squadron, the first Eagle Squadron, aged 21 and was appointed to be the second Commander of the 4th Fighter Group aged only 23 and became the youngest colonel in the USAAF. After more than 200 operational sorties, 7 victories and a chestful of medals including the British DSO and DFC, he handed command of the Fourth to Don Blakeslee and the 4th FG went on to be the highest scoring unit in the USAAF with 1016 aircraft destroyed. 
An interesting book with two great USAAF signatures.