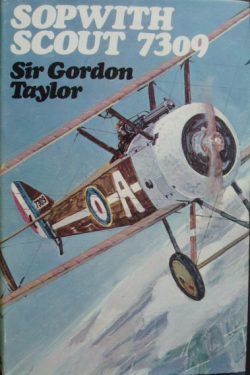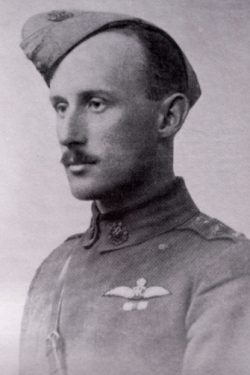 SOPWITH SCOUT 7309
By Sir Gordon Taylor GC MC
Published by Cassell.  First edition 1968. 177 pages and well illustrated with photographs.
Fine condition hardback book in blue boards with silver gilt titles.  Fine condition unclipped dustjacket in a protective cover.  Clean, tight and bright.
Sopwith Scout 7309 was a single seat fighter aircraft which the author flew with 66 Squadron RFC through the spring and summer months of 1917.  At the time, he was an 18 year old Australian who won the MC and was one of only four men in his flight who survived the full six month tour of duty. Though the 'Pup' was a delightful aircraft to fly, it was outclassed by the German Albatross and this is the author's account of how the squadron dealt with the situation.
Sir Gordon became known between the wars as a leading pioneer of civil flying, proving and developing many of the world's great trans-oceanic air routes.  In 1935 he was awarded the George Cross for a famous incident in which he climbed out onto the wing of an aircraft high above the Tasman sea to tackle a seized engine.
Sir Gordon had always been reticent about his youth in the RFC, believing that the readers preferred a romantic, glamourized version of the pilot's war to the truth of the fearful days he had known. However, in the year before his untimely death in 1966, he was persuaded to write this book and to his surprise, 'found myself back at Vert Galand Farm aerodrome, with the sound of the guns at Arras rumbling in the night…and in the high air over Carvin & Douai I stalked again the shark-like Albatross, flying my agile little fighter, Sopwith Scout 7309….'
An excellent and scarce Great War flying memoir in top condition.