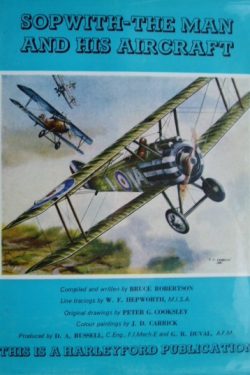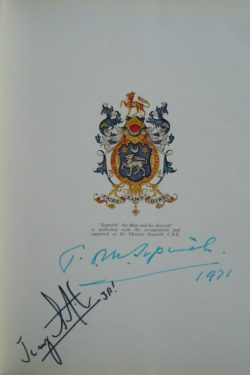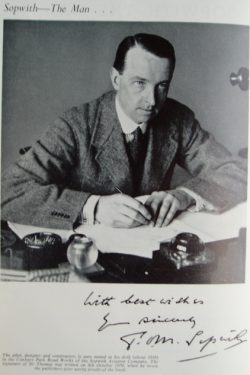 SOPWITH
The Man and his Aircraft
Signed by Sir T.O.M. Sopwith
Sold
NOVEMBER ~ *BOOK OF THE MONTH*
There are some aviation books that are so rare and highly sought after by collectors
from all over the world that it would be unfair to sell such a book on a 'first come' basis.
Therefore, each calendar month, Spitfire Books is offering a rare book for sale
and invites collectors to submit a 'best offer' during the month by email or telephone.
This is a sealed bid auction so what you bid is what you pay, if you are the winner.
---
Signed and dated on the half title page by
Sir Thomas Sopwith ~ 1971
Tommy Sopwith Jr
A Harleyford Publication, published by Air Review, First edition 1970.  244 pages including index and data tables. Extensively illustrated with black and white photographs, detailed 1/72 scale 3-view line drawings of 29 Sopwith aircraft by W.F. Hepworth, Camel drawing details by Peter G. Cooksley, colour painting on dust jacket and frontispiece by J.D. Carrick. With Data Tables and List of Surviving Aircraft.
Very Fine condition hardback book in turquoise covers (to match Sir Tom's characteristic ink!) with a Fine condition unclipped dustjacket.  Clean, tight and nearly in mint condition despite its age.  A fabulous copy.
This book was the first one to be approved by Sir Tom and as such he permitted his family coat of arms to be reproduced on the half title page.  Both he and his son, Thomas Jr who was a noted racing driver and powerboat racer  in the 1950s, have signed this page. NB. The signature under his frontispiece portrait is printed.
Of all the aircraft involved in the 1914-1918 War, none achieved more fame than Sopwith types – Pups, Triplanes, Camels and Snipes. Equally, of the early pioneers few, if any, have achieved more fame than did T.O.M. Sopwith. He first took to the air in a balloon, set out to break records as soon as he had learned to fly an aeroplane, and was barnstorming in America before that word came into vogue. He built the first successful British flying boat, set up a flying school, and was a test pilot, designer and manufacturer before 1914! He was one of the outstanding pioneers of aviation and for fifty years headed one of the most famous aircraft manufacturing groups in the world.
An excellent book in the Harleyford tradition, which is both a biography of Sopwith and the most complete single reference work of his incredible stable of aircraft.  Included are some 400 photographs, the majority previously unpublished, and a fascinating array of detail. 
 This is a beautifully produced and authoritative volume and being signed is consequently a very rare and extremely collectable book.