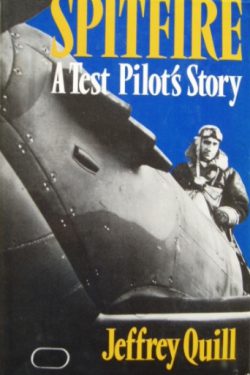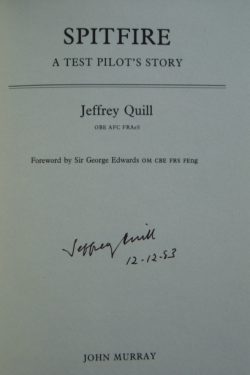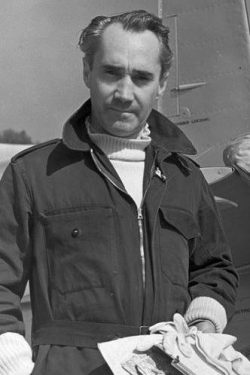 SPITFIRE: A Test Pilot's Story
By Jeffrey Quill OBE AFC FRAe
Signed by Jeffrey Quill
Signed on the title page in black ink by
Jeffrey Quill
12.12.83

John Murray 1983 first edition reprint. 289 pages plus appendices & 60 photographs
Fine condition hard back book in blue boards with gilt titles and a Fine condition unclipped dustjacket. Clean, tight and bright. A lovely copy.
This is the personal account of an exceptional Spitfire test pilot who took the immortal Spitfire from its experimental prototype stage in 1936, when he worked with its great Chief Designer RJ Mitchell, through some 52 variants to the end of its production life in 1948.
To gain first-hand knowledge of combat conditions the author fought with 65 Squadron at the height of the Battle of Britain and he later served in aircraft-carriers as an RNVR officer to increase his understanding of the problems of naval aviation and completed some 75 deck landings.
As well as describing the qualities and deficiencies of this outstanding aeroplane, Jeffrey Quill writes of the personalities involved in the Spitfire story; of the many other test pilots who worked closely with him; of some of the great fighter pilots; of the massive efforts of Supermarine in developing the aeroplane and producing more than 22,000 of them.
Jeffrey Quill's life was centred on the Spitfire and this book is in many ways the description of a love affair between a pilot and a great aeroplane. A highly recommended signed book for anyone with an interest in the Spitfire.