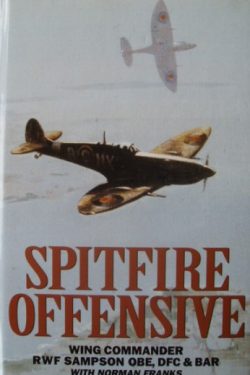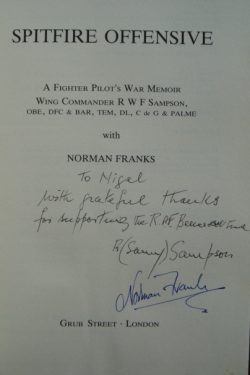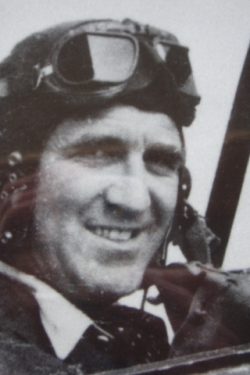 SPITFIRE OFFENSIVE
A Fighter Pilot's War Memoir
Signed by Wing Commander RWF 'Sammy' Sampson OBE DFC*
Sold
Inscribed and signed on the title page

by Norman Franks and Ralph Sampson
To …… With grateful thanks for supporting the RAF Benevolent Fund
R (Sammy) Sampson
 The DJ states 'All of Sammy Sampson's royalties will go to the RAF Benevolent Fund'
Published by Grub Street 1994. First edition. 182 pages plus photographs
Fine condition hardback book and dustjacket. Clean tight and bright.
Foreword by Air Cdre Pete Brothers to whom Sampson has dedicated his book.
Ralph 'Sammy' Sampson, in co-operation with aviation historian Norman Franks, offers a graphic account of his three years flying Spitfires on offensive operations over France during World War II.  
He commenced flying with 602 Squadron under Paddy Finucane and participated in the Dieppe operation before being promoted to command flights, squadrons and then a Spitfire wing. He has covered in detail his period commanding the Free French Wing, of which little has been recorded in Britain. His recollections of people and events provide an insight into the life of a wartime fighter pilot who played international rugby for Scotland both before and after the war.
Air Commodore Peter Brothers said of him: "As a squadron commander and wing leader, (he was) the most exciting leader on offensive operations I had the privilege to serve with."
A lovely copy of a scarce signed book