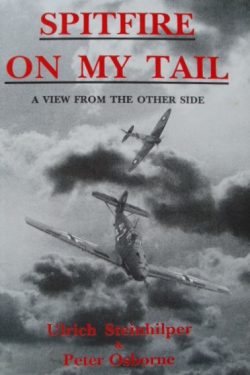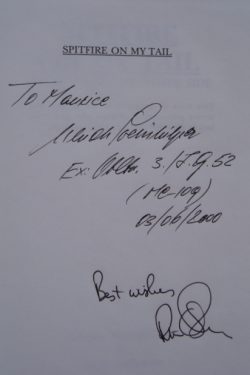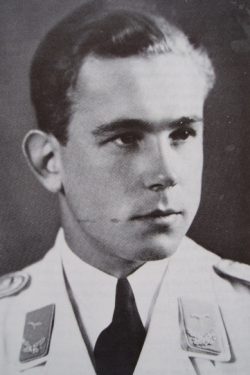 SPITFIRE on my TAIL
A View From the Other Side
Signed by Oberleutenant Ulrich Steinhilper
Inscribed and signed by Ulrich Steinhilper and co-author Peter Osborne on the half title page
Ulrich Steinhilper,
Ex Ob.lt. 3JG/52
(Me109)
03/06/2000
Independent Books 1990. First UK edition. 352 pages and well illustrated with photographs
Mint condition hardback book and dustjacket. Clean, bright and unread.
This book is one of the rarest viewpoints on the Battle of Britain – that of an ordinary German fighter pilot.
Steinhilper writes with charm, humour and feeling. This book has tremendous atmosphere. Despite the passing of time Steinhilper manages to make the experience of 1930s Germany your own. After joining the Luftwaffe in 1936 he describes his flying training and the build up to war. We follow him onwards towards the Battle of Britain, his combats and his uncompromising views of the conduct of the battle both by the Luftwaffe High Command and the RAF. He was shot down over Kent in October 1940 and the last chapter describes the excavation of his aircraft exactly 40 years later.
A great story and a nicely signed book.
This book is listed on ACE.  To purchase, please contact Spitfire Books