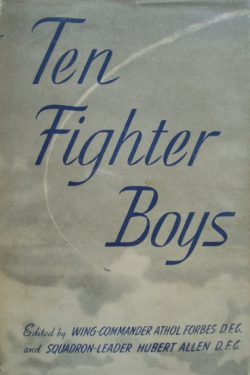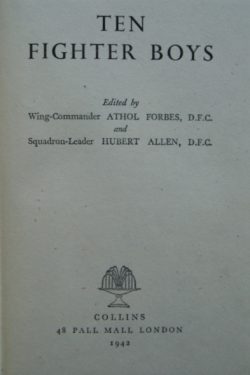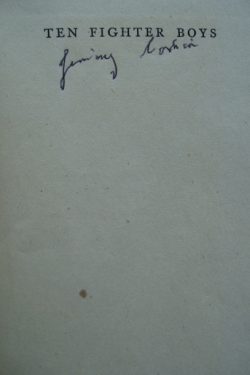 TEN FIGHTER BOYS
by Athol Forbes and 'Dizzy' Allen
Signed by Sergeant Jimmy Corbin
Sold
Ten Fighter Boys ~ 66 Squadron RAF
Signed by Sergeant Jimmy Corbin on the half title page
Published by Collins.  First edition, first printing 1942 .  176 pages plus photographs.
A Fine condition copy of this hardback book. Clean, bright, tight and square. There is a previous owner name on the inside front board, concealed by the dustjacket flap. The dustjacket is in Very Good condition with some small loss at the top and bottom of the spine and has some edge chips but is otherwise complete, unclipped and looks smart in a protective cover.  A dustjacket for this book is scarce in any condition.
During the Battle of Britain an RAF Spitfire squadron commander asked some of his pilots to write about their combat experiences. The book was published in 1942 as 'Ten Fighter Boys', penned by ten pilots on 66 Squadron, most of whom had seen action in the Battle of Britain and later in fighter sweeps over France in 1941-2. By the time the book was published, three of the original authors were dead; by the end of 1942, only three of the ten were still alive. 
Jimmy Corbin, who contributed Chapter 3 was the last survivor of the ten, living until 2012 and publishing his autobiography 'Last of the Ten Fighter Boys' in 2007.  Jimmy signed this book at the Duxford airshow in 2007.
The book and its narrative style are very much of their time: the language is colourful, irreverent and dramatic, but at the same time filled with the pathos and fatalism that is the preserve of the fighter pilot.
A very scarce book, especially signed, a wartime first edition is an essential volume for the Battle of Britain bookshelf.