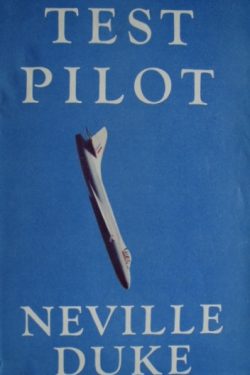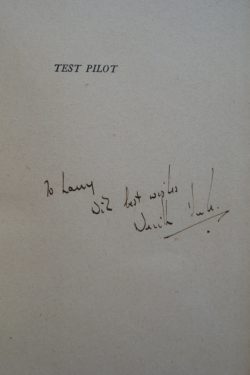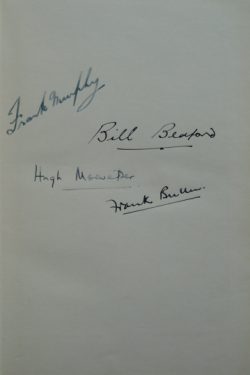 TEST PILOT
By Squadron Leader Neville Duke DSO DFC**
Multi-Signed by Hawker Test Pilots
Signed on the half title page by Neville Duke
& signed on the reverse frontispiece by Hawker Test Pilots,
all mentioned in the book
Frank Murphy
Bill Bedford
Hugh Mereweather


Frank Bullen
Published by Allan Wingate. First edition, seventh impression December 1954.  215 pages and well illustrated with photographs.
Very Good condition hardback book in a Fine condition unclipped dustjacket. Clean, bright and tight with a light even tanning to the text block.
From ace Spitfire pilot with 92 Squadron to world famous record breaking test pilot, this is the classic autobiography of Neville Duke.  He was one of the top scoring RAF fighter pilots of WWII, decorated six times for gallantry; post-war he became a household name as Chief Test Pilot for Hawker and a permanent figure in the gallery of great flyers.
An excellent multi-signed first edition copy of this great book which deserves a place in every aviation library.
Neville Duke DSO OBE DFC ** AFC FRAeS (1922-2007)
Duke was a high scoring World War II fighter pilot, flying Spitfires over France and later, North Africa and Italy. He became a test pilot for the Hawker Aircraft Corporation in 1948. He held the world air speed record in 1953 flying a Hunter but had to retire as a test pilot in 1956 following a serious accident. Nevertheless he continued flying to the day he died, aged 85 – and not as a result of an air accident.
Bill Bedford OBE AFC FRAeS (1920-1996)
Bedford was a World War II pilot, flying Hurricanes and Mustangs. He succeeded Duke as Hawker Chief Test Pilot and then became CTP for Hawker Siddeley Aviation at Dunsfold from 1963 to 1967. He worked on the development of the Sea Hawk, the Hunter and the P.1127, Kestrel and the Harrier aircraft, making the first flights of all of the last three aircraft.
Hugh Merewether FRAeS   (1924-2006)
Merewether was appointed Deputy Chief Test Pilot at Dunsfold in 1956. He was the second pilot to fly the P.1127. In 1963, he was awarded the Queen's Commendation for Valuable Services in the Air for crash landing the P.1127 rather than ejecting and thereby saving the machine to be examined to locate the fault. He became Chief Test Pilot in 1967.
Frank Bullen, WWII Spitfires & Mustangs.  Hawker Production TP 1949 – 1960
Frank Murphy OBE, WWII Hurricanes, Typhoons, Tempests with 486 (NZ) Sqn. Hawker Production TP  1944 – 1955