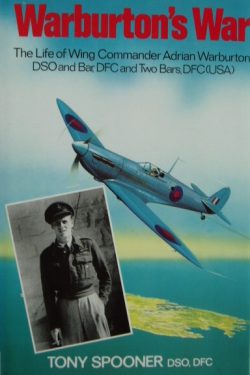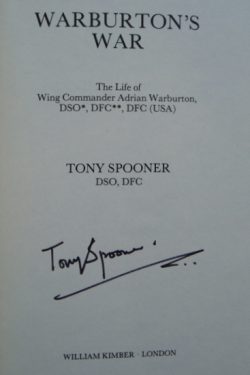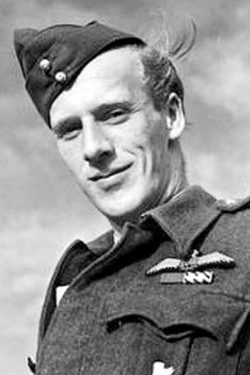 WARBURTON'S WAR
The Life of Wg Cdr Adrian Warburton DSO* DFC**
Signed by Wing Commander Tony Spooner DSO DFC
Signed by Wing Commander Tony Spooner DSO DFC 
William Kimber First Edition 1987. 222 pages and well illustrated with photographs.
Fine condition hardback book in a Fine condition dustjacket.  Clean, bright and tight.  Nearly as new.
'The most valuable pilot in the RAF' according to MRAF Lord Tedder when AOC-in-C Middle East.
Although Adrian Warburton (known to all as 'Warby') became one of the most highly decorated pilots of World War II, he began his military career as a below-average misfit with 22 Squadron of Coastal Command and was sent to Malta to avoid trouble in the UK.
Known at first as a loner, when given his command, the spectacular results he achieved enabled his unconventional behaviour to be over-looked. Fearless in the air, the maverick ace shot down nine enemy aircraft and won fame in Malta for his invaluable photo reconnaissance work at Taranto, Sicily and North Africa.
On April 12th, 1944 Warburton departed in an aircraft on an unusual mission over Europe. Both plane and pilot disappeared without trace, giving rise to a host of rumours that his disappearance was intentional. 
Based on interviews with nearly 150 of Warby's colleagues, 'Warburton's War' paints a picture of a fascinating man, who with 350 operational missions from Malta alone became a living legend and an enigma among the aces of WWII.
The author, Tony Spooner, was also a decorated wartime RAF pilot, serving in Malta and on anti U boat patrols in the Atlantic before embarking on an equally distinguished career as an airline pilot with BOAC.
For almost 60 years the mystery remained unsolved. Years of speculation about his fate came to an end in 2002, when his remains were found in the cockpit of his Lockheed F5B, buried about 2 m deep in a field 30 miles west of Munich.  One of the propellers had bullet holes in it, which suggests that Warburton had been shot down. Parts of the wreck can be seen today in the Malta Aviation Museum.
An interesting fact is that Warby attended the same school as another two of the RAF's most charismatic heroes – Douglas Bader and Guy Gibson.
A fascinating book about an unconventional man.