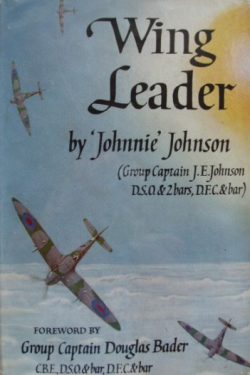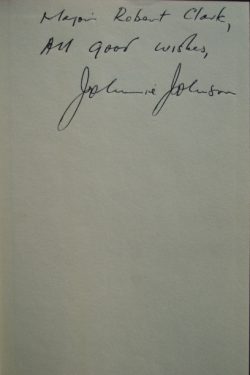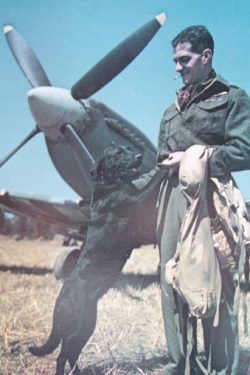 WING LEADER
By Group Captain JE 'Johnnie' Johnson DSO**DFC*
Signed by Johnnie Johnson
Sold
Inscribed and signed by 'Johnnie' Johnson on the front-end paper
'Major Robert Clark,
all good wishes,
Johnnie Johnson'

Chatto & Windus.  First Edition, third impression October 1956 (first published in September 1956). 320 pages and 30 photos.
Fine condition hardback book in clean blue boards and with gilt titles on the spine.  Internally it is clean, tight and bright with a very solid binding. The dust jacket is also in Fine condition, unclipped and unfaded.  A first class copy in all respects.
The classic autobiography of the official top scoring allied fighter pilot of WWII with 38 accredited victories needs little introduction. It tells the thrilling story of 'Johnnie' Johnson, who served with Fighter Command squadrons throughout the war, scoring his 38th and final victory in September 1944.
From the moment the author joins his first operational Spitfire squadron in August 1940, the reader is taken on an epic journey through the great aerial fighter actions of the war. The events in which Johnson participated included the Battle of Britain, sweeps across the Channel and over France with Douglas Bader, the unsuccessful Allied raid on Dieppe, the D-Day landings in Normandy and finally operations across the Rhine and into the heart of Germany itself which led to the final victory in May 1945. 
A scarce and attractive copy of this classic memoir, likely to have been signed around the time of publication, judging by the style of Johnson's signature.