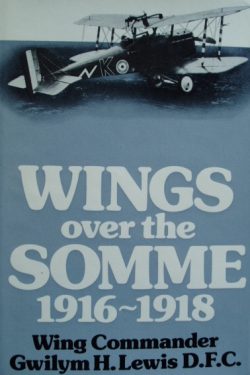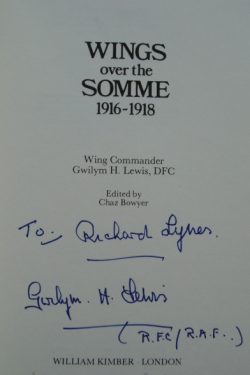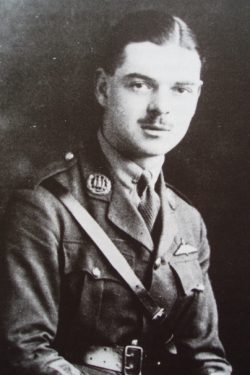 WINGS over the SOMME 1916 ~1918
By Wing Commander Gwilym H. Lewis DFC
Signed by Gwilym Lewis
Sold
Inscribed and signed on the title page by
Wing Commander Gwilym H Lewis DFC
William Kimber. First edition, 1976.  205 pages and well illustrated with photographs.
Fine condition hardback book and Fine condition clipped dustjacket. Clean, bright and tight. There is a pencil note which states that the book was signed at the 'Cross and Cockade' AGM at RAF Hendon on 15th April 1989. 
Gwilym Lewis was sent to the Somme with the RFC in 1916 as a boy of eighteen.  He fought in two leading fighter squadrons, won the DFC and was credited with 12 victories.  In WWII he was a member of Churchill's planning staff.  He died in 1996 aged 99 as the last RFC pilot to have flown in the Battle of the Somme.
"The value of this book lies in its wealth of day-to-day detail and routine life and work in an operational unit…….Gwilym Lewis has poured out pure gold" Cross and Cockade Society Journal.

Citation for award of the Distinguished Flying Cross
Lieut. (T./Capt.) Gwilym Hugh Lewis (Northamptonshire Regiment).
It is largely due to this officer's ability and judgment as a flight leader that many enemy machines have been destroyed with very few casualties in his formation. He is bold in attack, and has personally accounted for eight enemy aircraft, displaying marked disregard of personal danger.
A lovely signed copy of this excellent WW1 memoir.