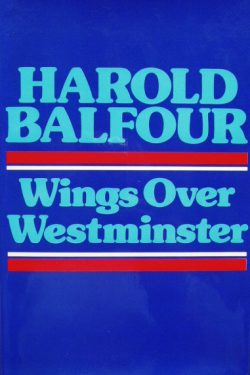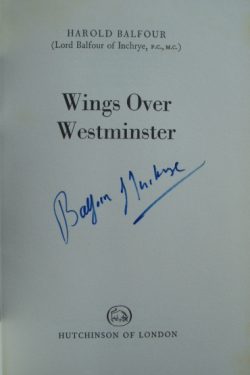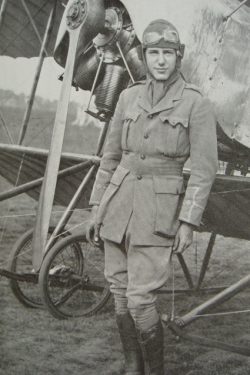 WINGS over WESTMINSTER
By Harold Balfour, Lord Balfour of Inchrye PC MC*
Signed by Lord Balfour of Inchrye
Signed on the title page by
Lord Balfour of Inchrye



Published by Hutchinson. First edition, second impression October 1973. 224 pages and well illustrated with photographs.
A Very Good condition hardback book and Very Good condition, unclipped dustjacket. Clean, tight and bright.
Few people have packed more experience and excitement into their twin careers in aviation and politics than Harold Balfour, one of the most colourful figures in the inter-war years. 
Balfour joined the army in 1914 and served in France for three months before he transferred to the Royal Flying Corps. In 1917 he was serving with 43 Squadron when he downed two enemy aircraft while flying a Sopwith 1½ Strutter. He was injured in a crash and moved on to the School of Special Flying, but returned to 43 Squadron as a flight commander flying the Sopwith Camel and claimed 7 more victories and was promoted to major. Balfour then took command of a training school until 1919. He was private secretary and Aide-de-camp to Air Vice Marshal Sir John Salmond 1921–22 and temporary ADC to Sir Samuel Hoare, Secretary of State for Air, 1923. He retired from the Royal Air Force in 1923 to follow a career in journalism, business and politics.
During WWII, he was Under Secretary of State for Air and flew the second production Spitfire as well as the Hurricane, Typhoon, Whirlwind and Mosquito and was intimately involved with air policy throughout the war, an area which is well described in this entertaining and readable memoir.
An interesting account of WW1 flying and WW2 politics, nicely signed by Lord Balfour.